Musk crashes bitcoin by quoting Linkin Park's song - In the end
While we were sleeping, I. Musk made another attempt to play with the cryptocurrency market and traders. He posted another tweet, adding lines from Linkin Park's song - In the end.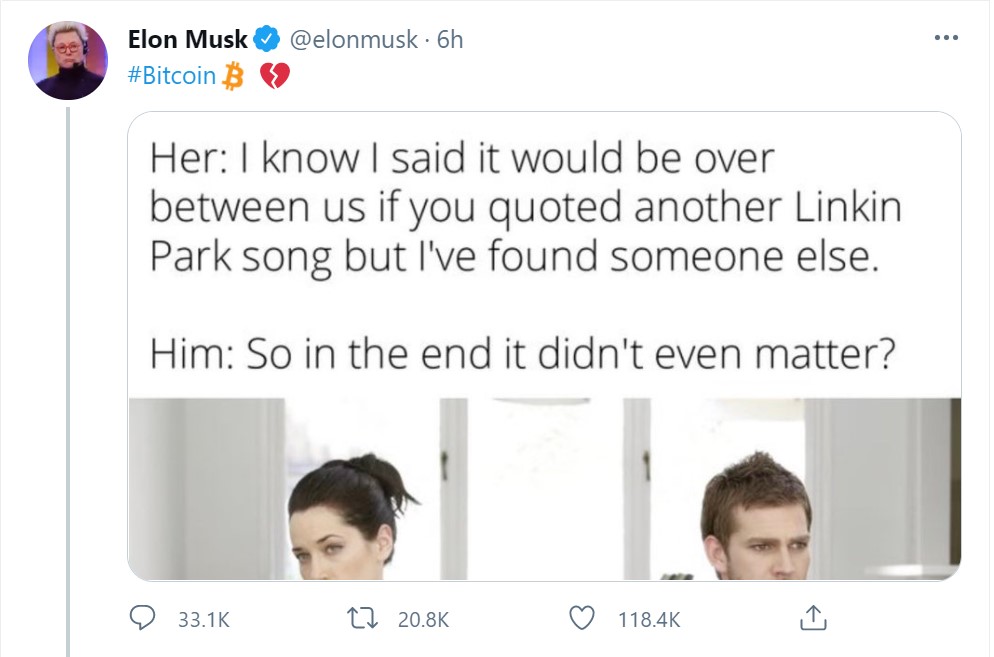 In particular, a picture was posted with a stock image of a young couple and the caption:
Her: I know I said it would be over between us if you quoted another Linkin Park song but I've found someone else.

Him: So in the end it didn't even matter? (the original band's line of the song: "It doesn't really matter.")
The tweet contained #Bitcoin hashtag and a broken heart icon. The main cryptocurrency fell in price by more than $ 3,000 and was valued at 36,700 USD by 10 am on June 4 of it (i.e. -5% per day).
One of the creators of Dogecoin responded to Musk with the words from the same song: "Elon ... I trust you" ("I've put my trust in you" in the original). Then, Musk posted another picture with a girl that communicates with a young man online and claims she is bored. After that, DOGE (-14.6%, to 0.36 USD) and the majority of altcoins dropped in their price.
LINK (-12%, up to 28 USD), BNB (-10%, up to 373 USD), XRP (-10%, up to 0.93 USD), ADA (-8%, up to 1.64 USD) , ETH (-7%, up to 2.6 thousand dollars).
Publication date: 1 year ago