Three Most Catchy Moments From the Bitcoin 2021 Conference
The 'Bitcoin 2021' conference of crypto fans from around the world recently took place in Miami (USA). According to media reports, it was attended by nearly 50 thousand people despite the pandemic.
Behold the power of your fiat money!
Perhaps the most striking event was the performance made by the Cake Wallet startup. These guys are creating an open source cryptocurrency wallet. The event is pretty common, so the developers decided to draw everyone's attention with an unusual installation. Right in front of the entrance to the main hall, they set up a trash can filled with Venezuela's state currency, the bolivar. As of June 8, 1 USD equals 3,107,152 VES, which means each banknote costs less than the paper on which it has been printed.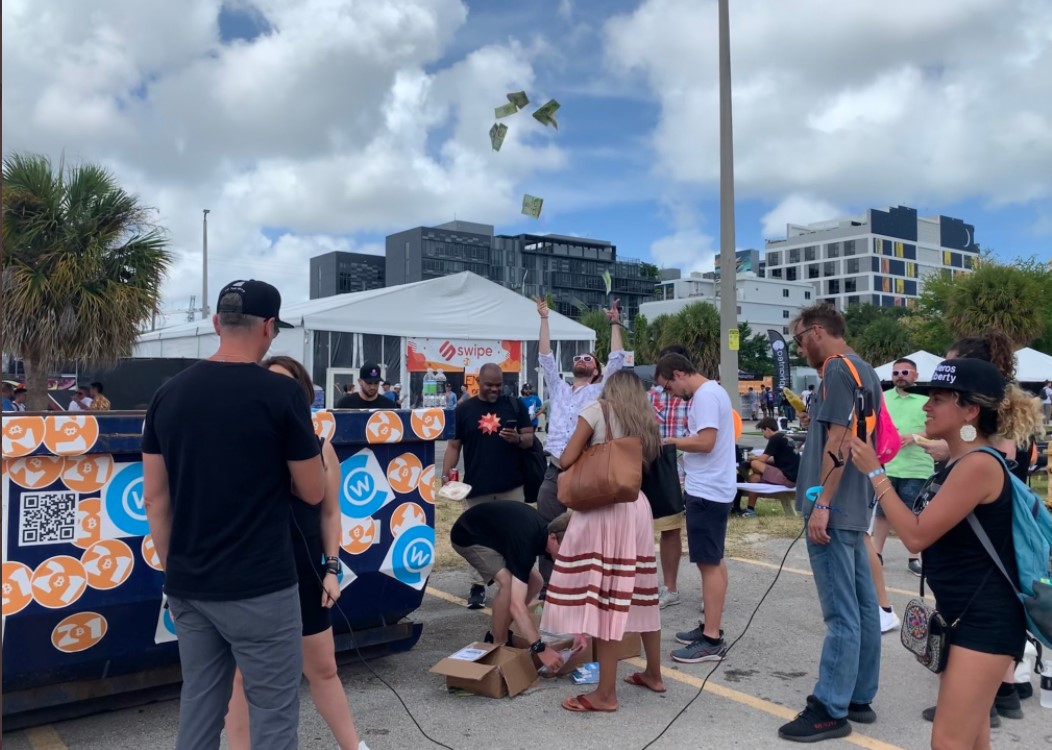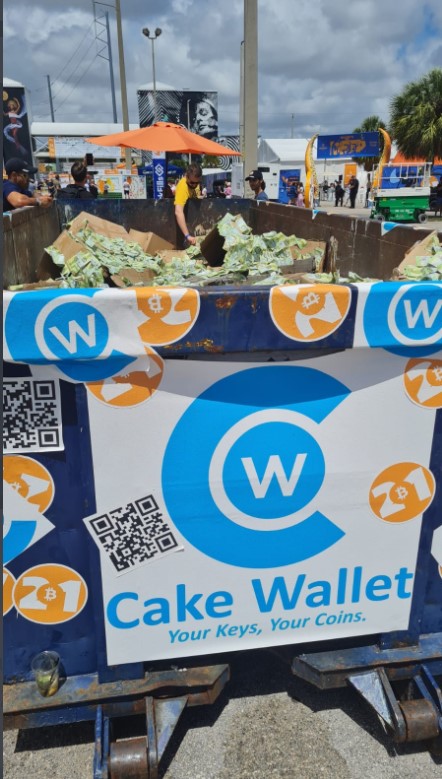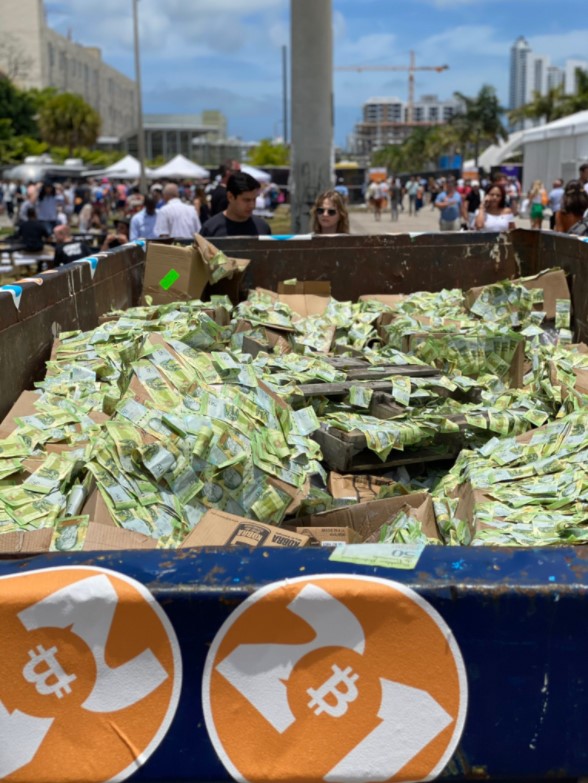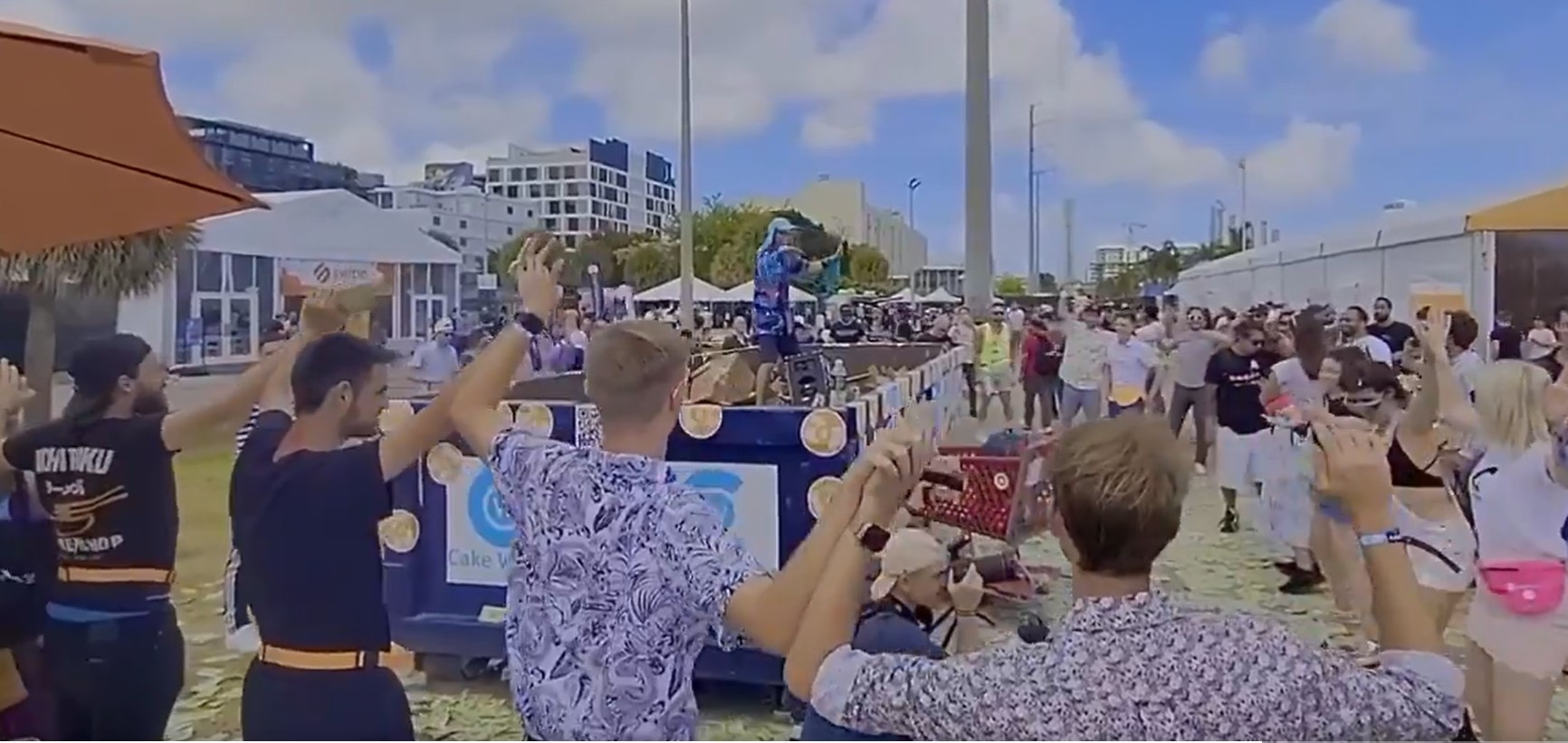 The message of such an escapade is clear - this is the answer to all critics, who claim that cryptocurrency is worthless and is not backed by anything. Well, what backs up the Venezuelan bolivar then, which by the way comes from a rich country, but is now considered as trash due to the inept actions of politicians? BTC fans took selfies in front of unnecessary pieces of paper.
"Dogecoin to the Moon!"
A commitment to cryptocurrencies characterizes you as a courageous and progressive person. However, sometimes fans of digital assets behave in a weird way. On the second day of the conference, during an open discussion, a young man in a suit jumped onto the stage and began convincing everyone in a loud manner to bow down before Dogecoin (DOGE). Then he tore off his suit and revealed the image of shiba inu on his shirt, while calling out: "Dogecoin to the moon!"
Twitter user maxotg_ was soon taken away by security personnel. So far he refuses to interact with journalists, but obviously the young man was over-inspired with the statements of I. Musk and his confidence in the future of DOGE coin. He surely had triggered an extra wave of interest in the asset, but now it is trading below the highs again.
Floyd Mayweather and shitcoin
The well-known boxer F. Mayweather, who didn't want to miss the opportunity to hype around cryptocurrencies concludes our review. However, instead of choosing reliable and proven assets, he chose EthereumMax (EMAX) - a frankly unknown project (2603rd place in terms of market capitalization, with a market value of USD 0.000000114 per token). He also spoke about Bitcoin in this way:
"I believe there's gonna be another cryptocurrency just as large as bitcoin someday."
As a result, Floyd was booed and buzzed by the crowd. I'm sure you'll all agree, it's a strange tirade, especially at a conference that was dedicated exclusively to BTC and consisted of its devoted fans.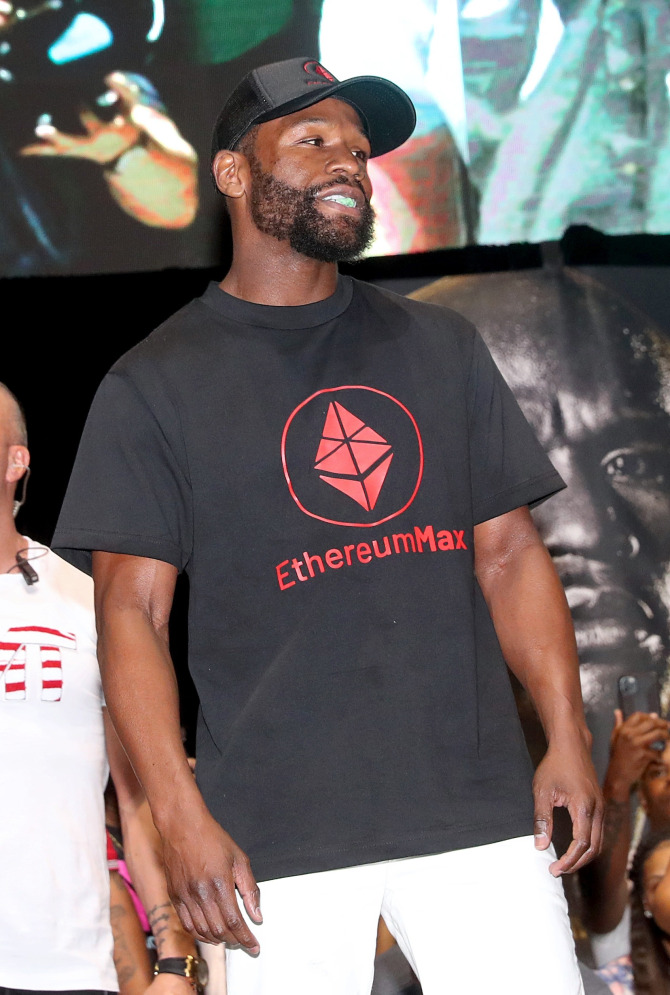 Publication date: 1 year ago