Remote access for ASIC devices
No more worries about expensive equipment running out of sight. Meet BiXBiT AMS — Automated Monitoring System for ASICs. Real-time statistics, main control functions and flexible notifications are now available as a single online service.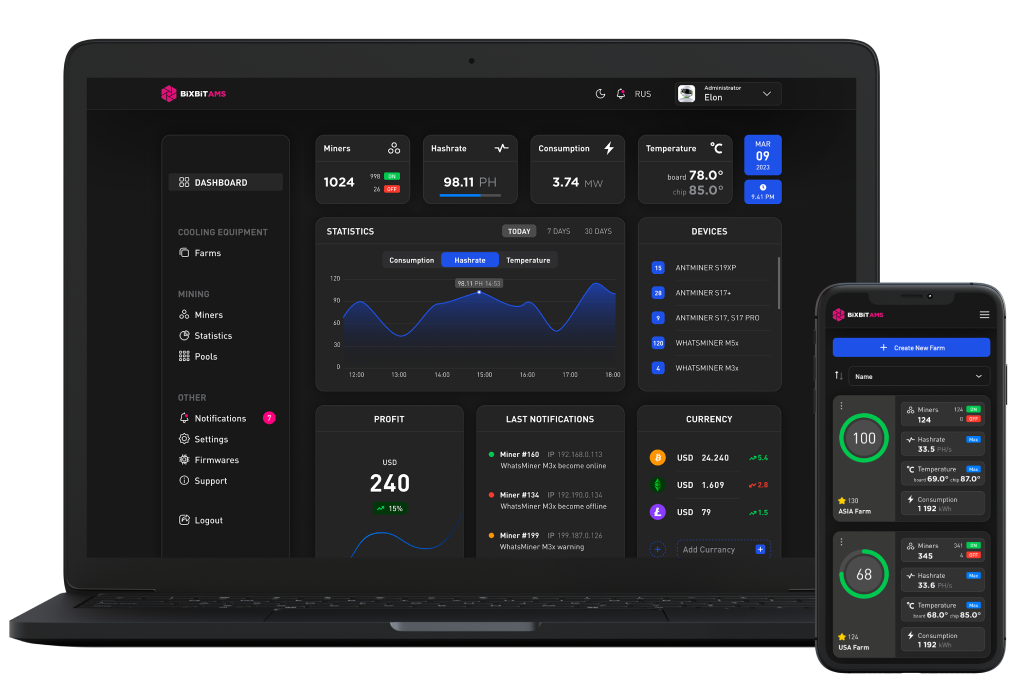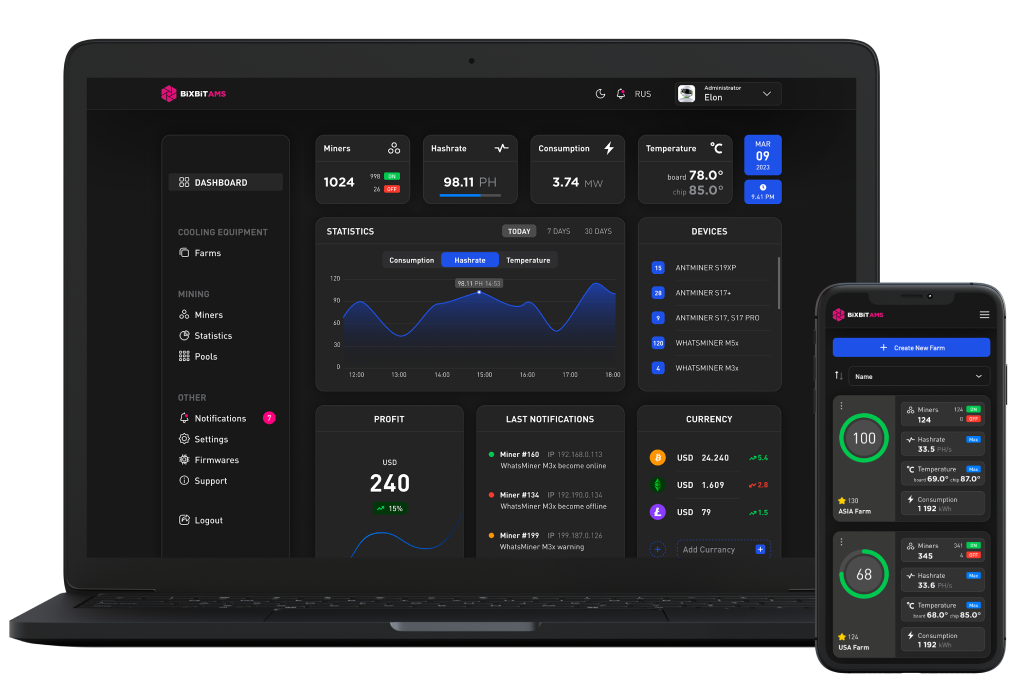 Anything you need
at your fingertips
We packed all important AMS features in one place for the best possible user experience
Ease of use
A versatile mining tool that allows you to set up and control your ASICs in one place, efficiently and without hassle.
Statistic data
Be constantly aware of the hashrate, temperature, power consumption and profitability dynamics as of one miner or the entire farm.
Hardware administration
The control panel allows you to manage the device parameters: change pool; restart the device and stop/start mining
Automation
Switch modes between maximum energy efficiency and peak performance, depending on the situation.
Integration with BiXBiT equipment
AMS can integrate with BiXBiT containers and monitor the operation of your cooling equipment. The panel provides data on more than 100 parameters and reports issues.
Mobility
You can monitor and control your equipment from anywhere - the office, home, travel, vacation, from anywhere with an Internet connection
Security
Two-factor authentication, SSH protocol restriction and pool change alerts will keep your equipment protected from unauthorized access.
Notifications
Receive notifications on your system performance, temperature readings, hashrate drops and more via email or Telegram.
Get notified on events you choose
Whether you're concerned about high temperatures due to the hot season in your area or the hashrate performance because you are a fan of overclocking — BiXBiT AMS will send you notifications on your scenarios via browser, email or telegram.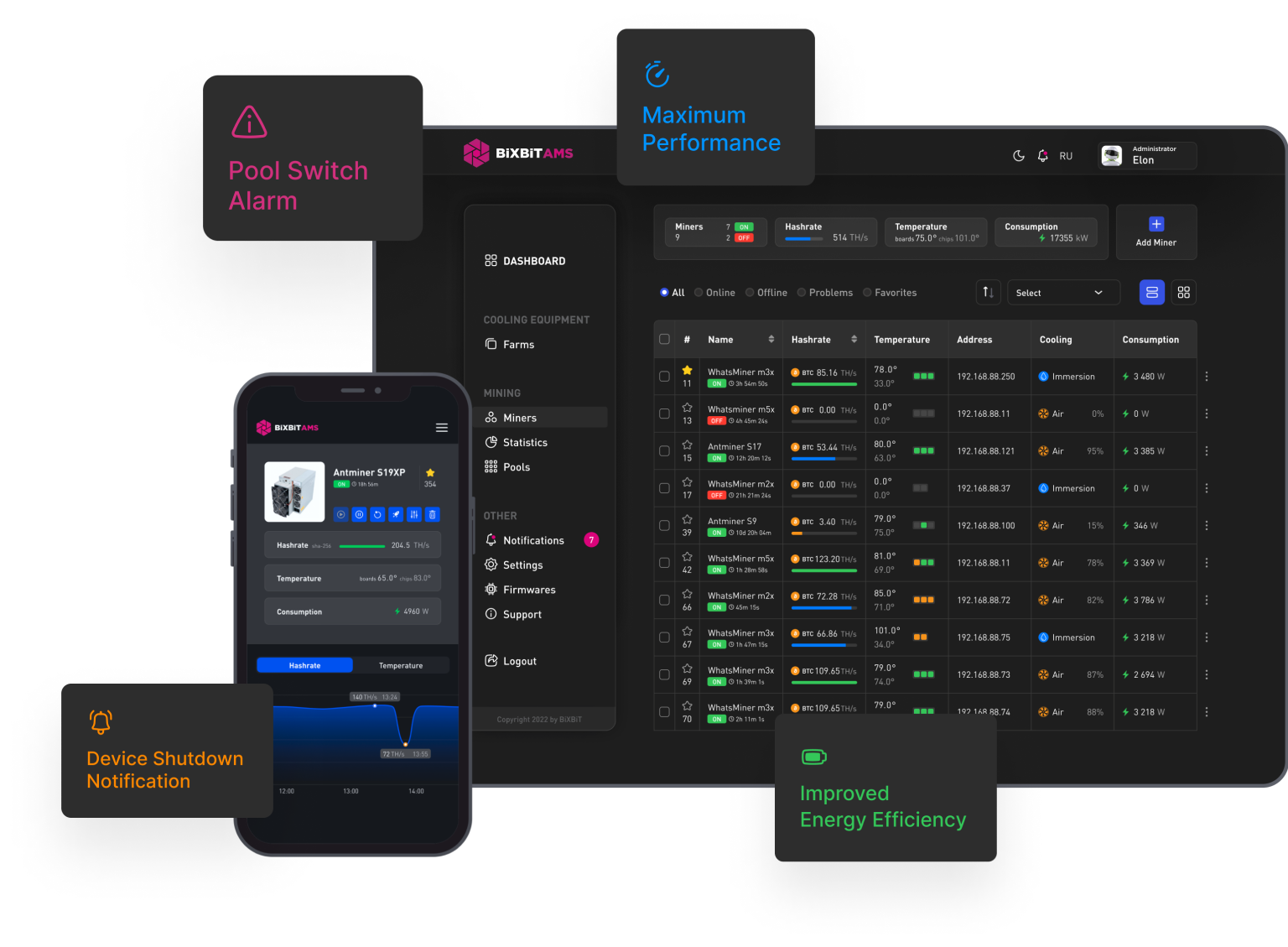 Light & Dark
theme
Switch between light and dark themes based on your personal preference.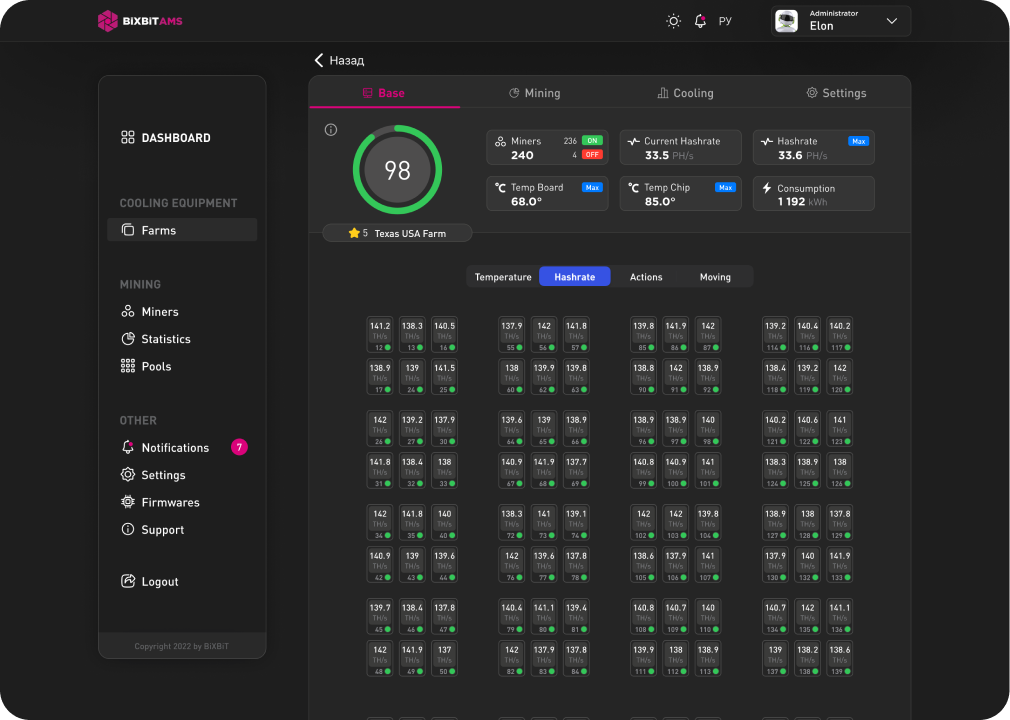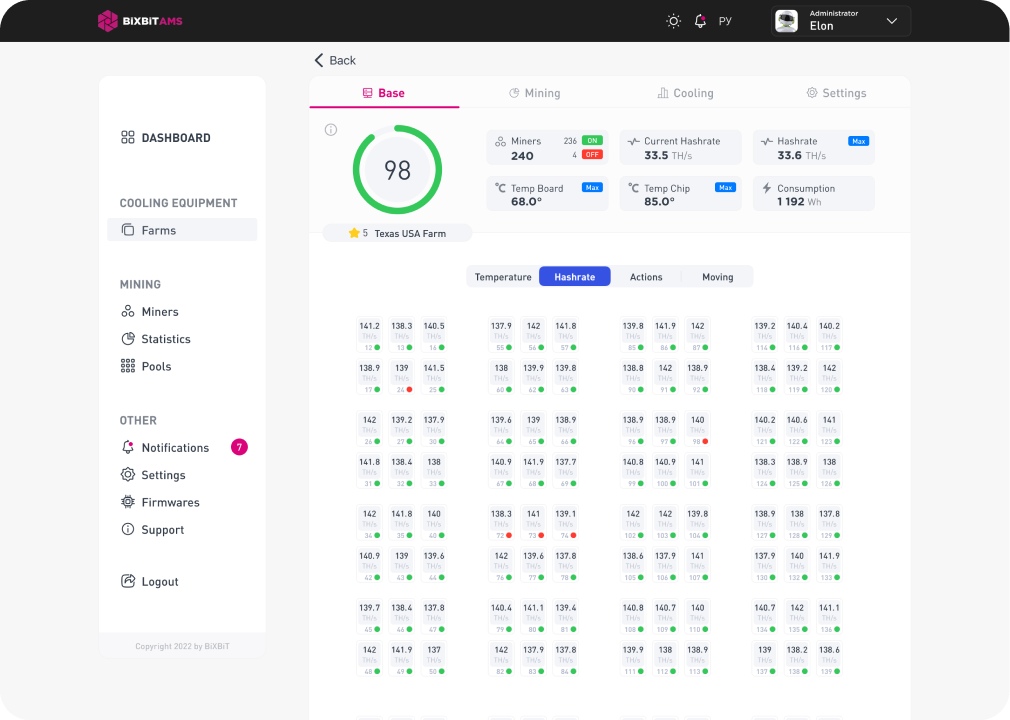 Three Easy Steps
Boost your profitability of Bitcoin and Altcoins mining with just a few minutes!
Register
To access your personal BiXBiT AMS account, where you will find a lot of useful tools and settings, which will help you in further work with your mining farm.
Install
Follow the instructions from the firmware user manual for your miners models and link your devices with the AMS. During the flashing process, you'll need to perform a bunch of simple tasks: set some parameters, passwords, IP-addresses, etc.
Start
BiXBiT AMS will display statuses of all your miners, provide administrative functions and notifications on important events according to the scenarios you have configured.
Choose Your ASIC Model
ASIC firmware optimizes the performance of the miners' chips, improving their hashrate by 20-40%. DevFee is ranging from 1.8% to 2.8% of the total hashrate, which varies by device model. On this page you can download alternative BiXBiT firmwares for various ASICs, find detailed instructions and get answers to the most common questions.
FAQ
Is using a custom ASIC firmware from BiXBiT free?

Our software for Antminer, Whatsminer is distributed for free. Please keep in mind that custom firmware includes Developers Fee, which is a reward for developers. Usually it is 1.8%-2.8% of the miner's total hashrate which is automatically deducted during the work of the device.

Why the ASIC does not start after selecting a profile?

If you mean the very first run after flashing the device, it sometimes takes up to an hour for the inbuilt algorithm to finish configuring your ASIC.

How to bypass the "Cannot Find Signature" message during the flashing process of the ASIC?

Read our user manual for your specific miner version, it describes actions to eliminate this error, when it occurs.

Does the ASIC lose its warranty from the manufacturer when used with a custom firmware?

There is no definite answer. To avoid warranty issues, please use the firmware from the manufacturer.
Is it risky to use the custom firmware for ASIC from BiXBiT?

Absolutely not. All firmware revisions are thoroughly tested before each release. Moreover, all BiXBiT capacities have been running on these firmwares for many years.

Is BiXBiT AMS compatible with microprograms from other developers?

No. Our automated monitoring system is only compatible with our software.

Is it possible to revert the ASIC back to its original settings after using a custom firmware?

Yes, just bring back the official firmware in the usual way.

What level of knowledge is required to flash a miner?

We have specially made instructions for every version of the miner. Everything is described in a simple and clear way, so even a beginner can handle it. Besides, you are always backed with our team of technicians who are always in touch and willing to help.
Enough said. Let's practice!
Join BiXBiT AMS and be free without giving up control of your business.