Results of the BiXBiT Bug Bounty Program
Introduction
Everyone was welcome to participate in a special Bug Bounty program created to test the AMS system, launched by our developers.
We offered users the opportunity to test the AMS system and help us find vulnerabilities and potential for further development. Everyone was able to learn about the system, try it out, and share feedback on their experience.
This Bug Bounty allowed us to make corrections and improvements to the product based on the wishes of real users, aside from the developers' point of view. Thanks to that, we can significantly improve the AMS system and increase its safety and usability indicators.
Such a direct contribution to the product development was not left unnoticed for those who showed excellent results. The winners were rewarded with our branded ASIC and 250 USDT.
And here is the list of winners: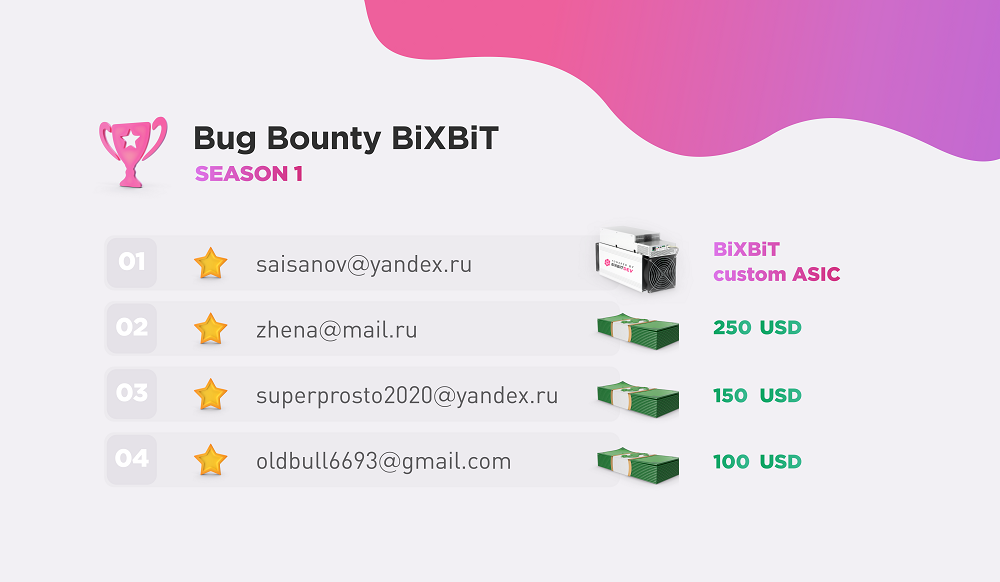 What is Bug Bounty?
We combined two objectives in our crypto Bug Bounty program. The first one was a contest to reward users who discovered bugs. The second one was in the form of a referral program.
This approach not only enabled the project to deal with bugs more effectively but also significantly increased the number of users. Many of them were interested in participating directly in the development of the platform on top of the tools that were offered by the system.
Members' effectiveness was rated with points. The maximum score could be only achieved by following the instructions and being active enough. One important condition for participants was to be informative and clear in their feedback. From what we have received, we were able to fix various bugs and find ways to improve existing features.
To participate in Bug Bounty, participants had to perform some simple actions:
Register on the official website.
Enter the requested information.
Log into the system.
Download the special firmware for the ASIC.
Don't feel bad if you haven't had a chance to join. Keep an eye on our blog — we'll be running more Bug Bounty events to continuously improve our products!
Publication date: 6 months ago