Water Blocks. To use or not to use
Most miners purchase video cards with stock air cooling systems and load them in 24/7 mode. However, this mode is harmful for devices and doesn't allow them to be overclocked properly, which dramatically reduce efficiency of mining. The solution is water cooling.
Problems of mining on GPUs cooled by air
GPU mining with stock air cooling systems brings users not only passive profit, but also problems. The main disadvantages of "air" mining are noise and dust. Moreover, there are problems with stable overclocking, which prevent from increasing hashrate, the need to clean radiators and fans, overheating, which leads to working capacity reduction, shutdowns and money losses due to low earnings per hour.
Each video card similar to Nvidia 1080Ti consumes 250W of electricity, diverting almost the same amount of heat. In this case GPU's basic cooling system is a radiator and a fan, designed to remove heat. The farm of six video cards diverts about 1.500W, which is as many as the heat generated by the apartment heating battery of eight sections. For farm cooling they usually use cabinet fans taken from base units (9 or 12 cm in diameter) or install a household fan.
Air cooling requires special measures for room ventilation. In case of cold climate, natural ventilation is used (e.g. an open window). However, alternative methods of cooling are more popular. The standard option - exhaust ventilation (similar to kitchen hood). Its modificated version is inlet ventilation system. It includes two fans, one of which removes warm air from the room, and the second pumps air from the street. The most advanced mining farms are provided with an air-conditioning system.
However, for the last several years, as an alternative to "air", a water cooling system are being tested.
How to use water blocks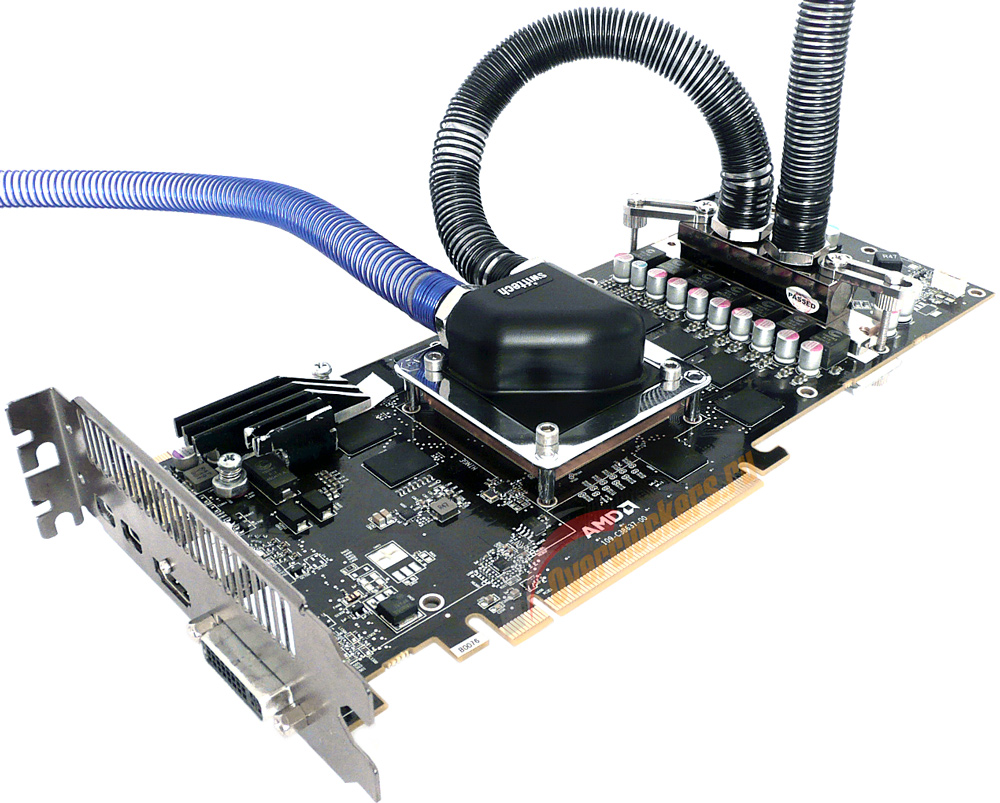 Self-made or ready-made water blocks are used for GPU cooling. The cooling system consists of several parts:
The board (basis for water block);
a full chamber water block;
a reservoir with a liquid;
a pump;
a radiator;
a fan;
fittings, expanders;
a set of tubes and splitters.
After connecting the system to the power supply, the pump flushes antifreeze from the tank through the acrylic tube. Under pressure the liquid enters the water block. There it is distributed over two cells, reducing the temperature of the GPU and cooling the VRM (voltage regulator). After that, the heated antifreeze passes through the radiator with a fan and then returns to the tank. The cycle is repeated again.
Previously, water blocks were only used to cool graphic cores. However, capacious video cards during overclocking where suffering from other elements overheating. Therefore, straight GPU cooling was suspended in favor of other options.
In 2017 NVIDIA released the universal water block EK-FC GeForce GTX FE. It was compatible with 106 manufacturer's video cards and was prepared in four versions. This solution removes heat from the area of ​​the graphics core, memory chip and batteries. Similar models became later available for AMD Radeon video cards.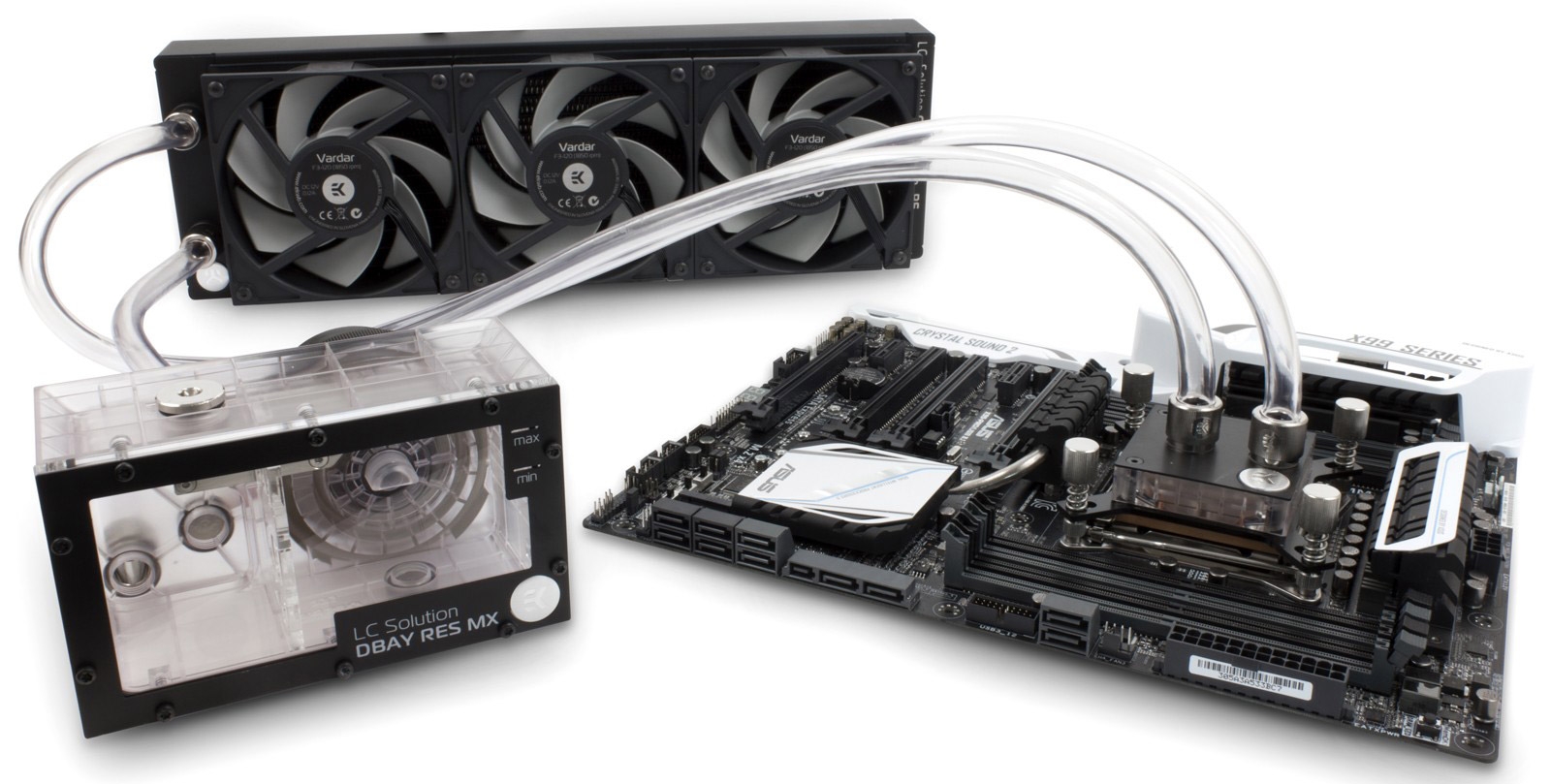 What is attracting about water coolers
the noise decreasing to 10-15 dB level;
dust is not clogged in the fans, as they are dismantled and not used;
possibility of equipment overclocking and hashrate increase;
opportunity of building a self-designed construction;
saving space, no need to allocate a separate room for the farm;
manufacturers sell ready-made systems for their video cards.
Disadvantages of water cooling
However, installations with water blocks have several significant "cons", which make the solution not so rational for home mining. Let's outline them:
danger of liquid leakage resulting in electronic components damaging;
need skills in farm designing and constructing;
capacious video cards water block modifications and water blocks themselves are several times more expensive than analogues based on "air";
the need to install a radiator with a fan in the street to cool the farm;
pre-owned video cards on "water" are more difficult to resell.
Thus, water cooling doesn't solve all the miner's problems. It guarantees only noise and dust reduction and safe hashrate increase. Therefore, some manufacturers went further, refusing to use water blocks in favor of immersion cooling, as a much more profound solution for home mining.
Advantages of immersion cooling systems
Unlike water cooling systems, immersion systems are gaining popularity. Initially, they have been tested on server hardware. For a long time, this sphere was associated with large computing capacities platforms, where the price was not a priority. It refers to Wall Street data centers and military supercomputer clusters.
Racks, equipped with pumps and water blocks, designed to survive possible leaks, until recently, did not interest mining community. The interest appeared exactly after the immersion technology made the cooling process so simple so that for stable operating it requires only a flat floor, a roof and electricity.
Immersion cooling has the following advantages over water blocks:
constant thermostating of equipment and maintaining its temperature in a given operating mode;
stable equipment overclocking;
no complex bundling or additional designing are required;
submerging into dielectric liquid protects the equipment from dust and corrosion;
dielectric liquid content is durable and doesn't require changing for a long period of time.
BiXBiT immersion installations
Our company is engaged in the study of immersion cooling. We tried to solve a whole range of problems related to air cooling and expensiveness of water blocks usage. As a result, we made it possible to obtain an optimal design for immersing computing equipment, compact and scalable from cell to container.
First level product is a metal cell designed to accommodate three rigs of 24 GPUs or 6 ASICs. It is suitable for small household farms installed in apartments. The cell with immersion cooling will save the miners from noise, dust and will dramatically extend the lifespan of the equipment.
The middle level is represented by a rack that can hold up to four cells (up to 96 GPUs or 24 ASICs). It can be placed in private houses and small production premises. The rack is equipped with all the necessary bundlings, which makes it possible to efficiently utilize heat and divert any extra through the cooling tower. Vertical BiXBiT rack is designed in such a way to provide quick access to the equipment inside and save space.
The ultimate version is a container (based on a 10, 20 or 40-foot ISO-container). It allows to accommodate up to 3 456 GPUs or 768 ASICs (from 8 to 32 racks, depending on the size). The mobile container (BiXBiT Miner) can be transported and placed in a convenient location. This solution is suitable for investors who have access to free or inexpensive sources of electricity. If necessary, the infrastructure can be easily removed from the site and transported to another location.
First of all, the use of immersion cooling combined with software allows to increase hashrate, for example, of the popular Antminer S9 model from 13 TH/S to 18 TH/S (almost 40%). This enhances competitiveness of cryptocurrency mining. Of course, in along with overclocking, the power consumption also increases, but immersion cooling saves on fans and stabilizes the equipment in a given temperature corridor. In particular, if the temperature of GPU powered by air cooling grows, protective relays operate and shutdown the equipment (even in case when the chips are ready for a higher performance), then when being immersed they remain in working process.
The second idea we come up with our installations is the useful heat utilization. The heat is directed to the heating system, to heat, for example, the pool water, to maintain high temperatures in the greenhouse or production room, wood drying. This technology can bring its dividends in completely different branches of small business. It all depends on your imagination.
Our facilities use a special composition, designed exclusively for the needs of modern miners. It is tested on working devices (ASIC and GPU) and demonstrates full compatibility with all components. We managed to achieve the maximum density of devices (unit per area).
In addition, you can choose different kits for farm self-assembly. Just visit our website and contact specialists in order to get the most appropriate configuration for your working capacities.
Publication date: 5 years ago