How Shipping Containers Change the Cryptocurrency Mining Industry
The founders of BiXBiT started mining cryptocurrencies back in 2016. In the process of creating GPU and ASIC farms, as well as in the course of communication with other miners on forums and in person, it became clear that there are a number of similar problems, which are typical for any device that uses air cooling and at the same time has an increased heat dissipation. These include overheating, the gradual accumulation of conductive dust, the need for regular replacement of consumables, the inability of stable operation when overclocking, equipment failure, and even fire.
The most optimal solution turned out to be immersion cooling. By that time, point studies of this type of heat removal were carried out by such large companies as GRC, Tesla, Fujitsu, 3M, ZTE, and others. However, they were mostly focused on cooling servers or computer equipment. Not many people thought about immersing ASICs in immersion fluid, and even fewer about reusing the resulting heat for business and household projects.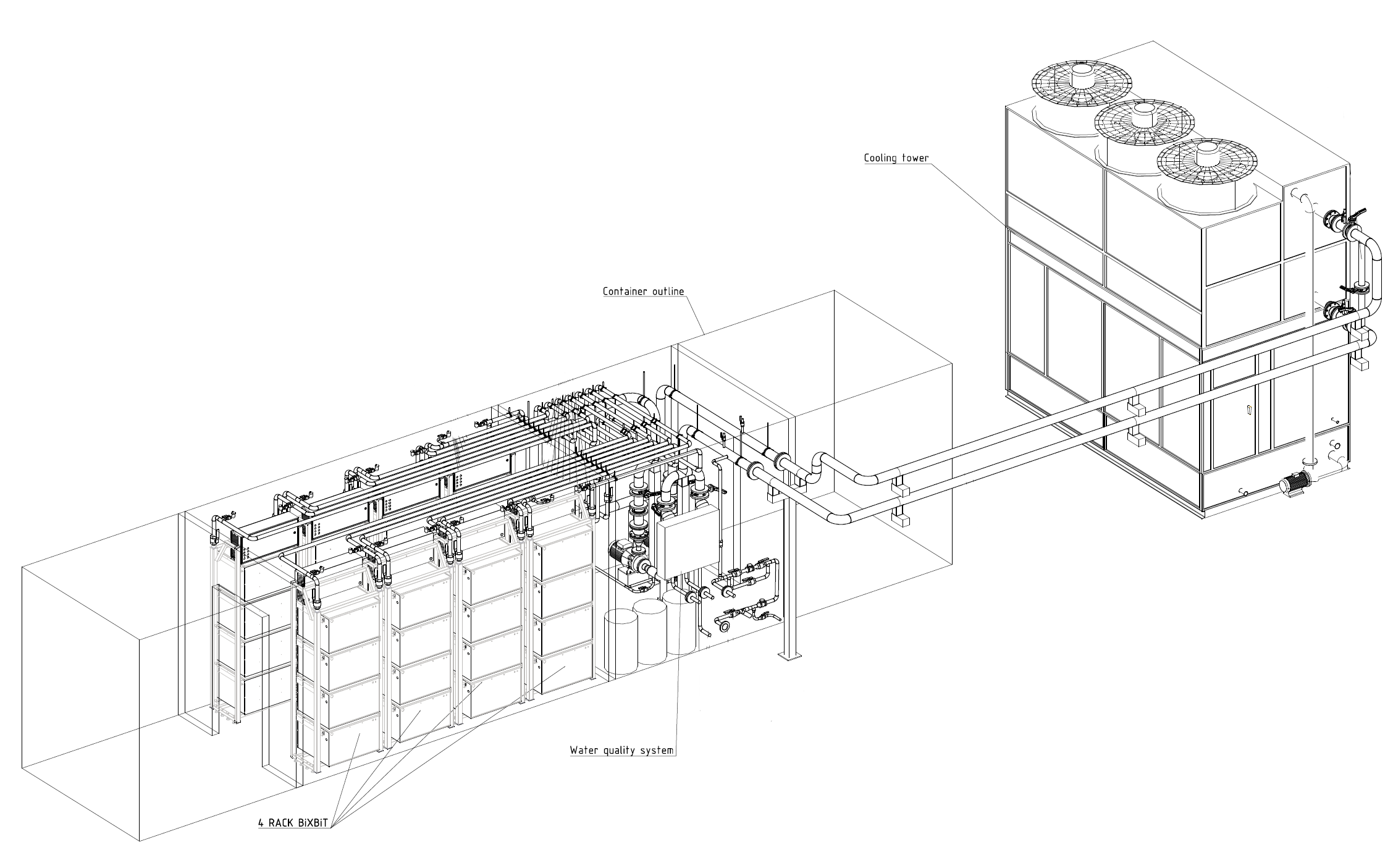 Although there were already enthusiasts and individual companies in the market, which were mainly engaged in the production of polypropylene tubs, which were cheap, simple and versatile. However, at the same time, the bathtub always remained it, that is, it was not some elegant solution that allowed a gradual increase in computing power in a limited space. In addition, polypropylene itself did not inspire confidence. The founders of the company wanted to create a durable and convenient infrastructure with high equipment density, which could be assembled easily like Lego. Thus the concept of scalability was born.
The philosophy of scalability
Scalability became the basis for new developments. It became clear that horizontal designs take up too much space. At the same time, even in 2017 it was obvious that the number of devices involved in the Bitcoin network would only grow. The time of home miners was coming to an end, big players were entering the industry, ready to make solid investments in the new field of business - cryptocurrency mining.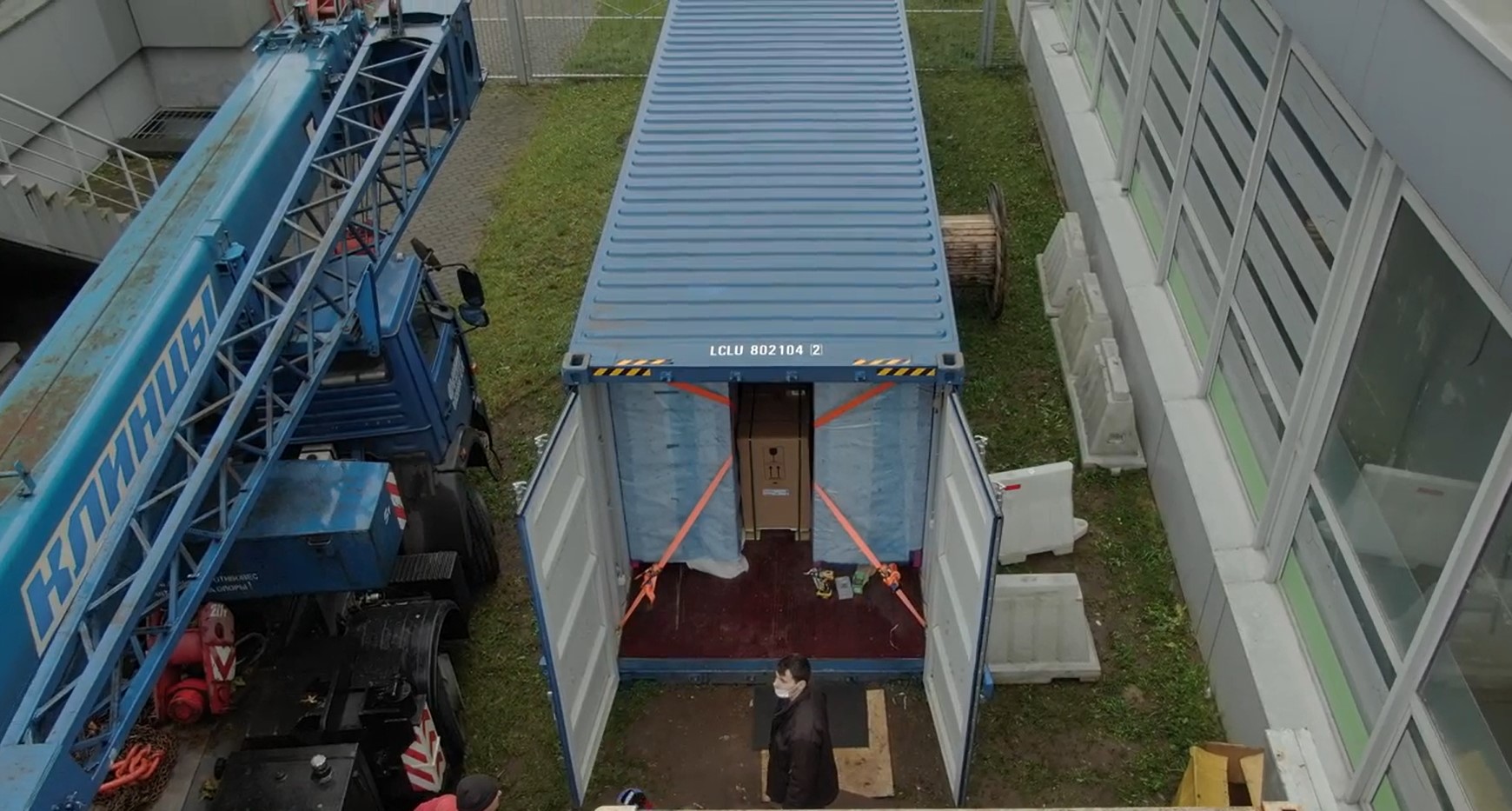 Obviously, it was necessary to evolve. Around the same time, scalability was added to such an important condition for miners as mobility. It consists in the ability to deliver and install large farms even in hard-to-reach places, near solar panel complexes, wind turbines, hydroelectric power plants, nuclear power plants, and other energy sources. It also means the ability to choose the configuration, i.e. filling with ASICs, GPUs, FPGAs, and others depending on the computations needed.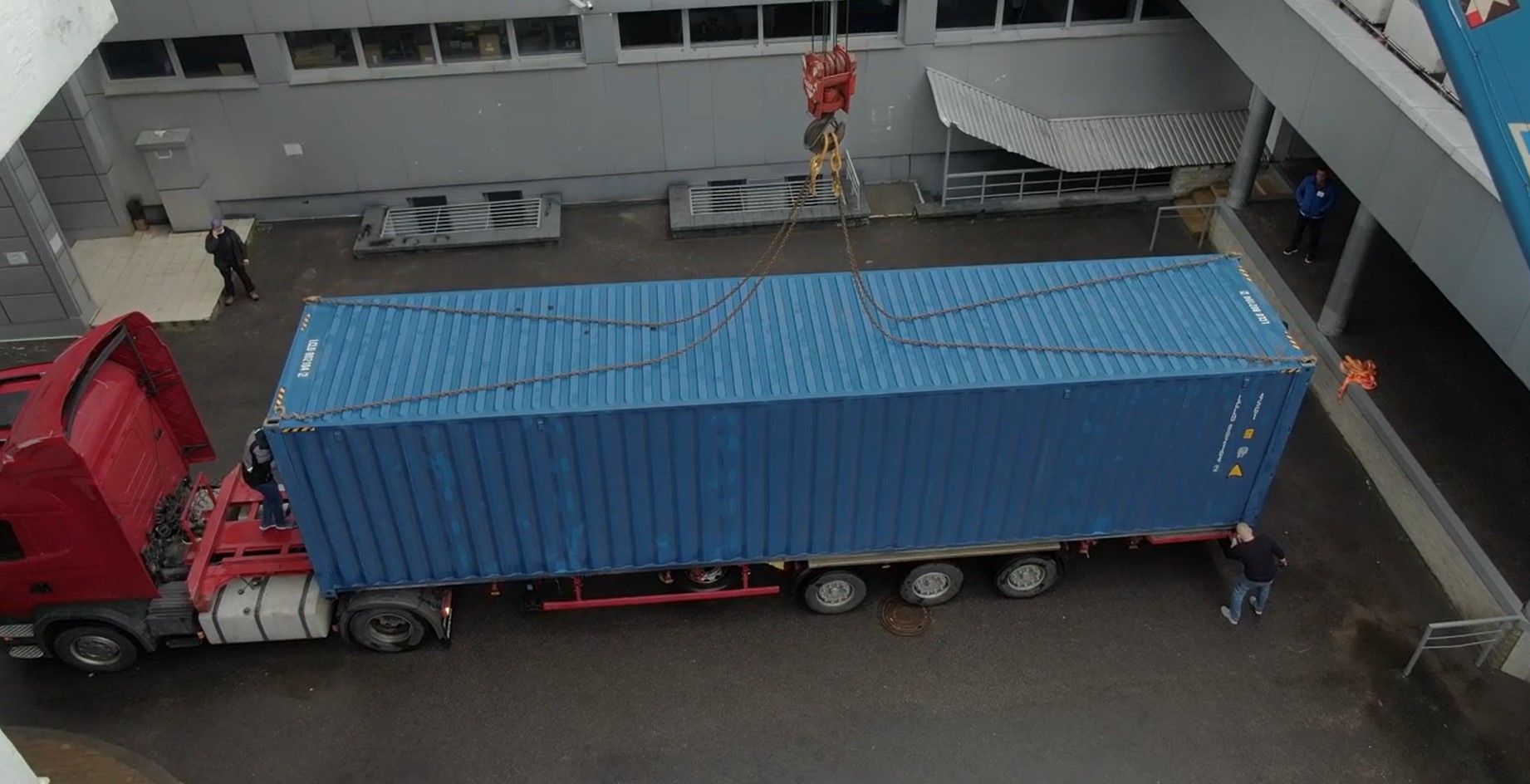 The simplest option was to use standard ISO containers of 10, 20 or 40 feet. In the process of research and experiments it was possible to come to the optimal solution: computing equipment is immersed in a cell; four cells are assembled into a vertical rack, like a server room; racks are installed in the container. In this case, the container is equipped with the necessary protection systems and the accompanying strapping.
This solution made it possible to achieve a very high equipment density per unit area. With immersion cooling, it is about 2-3 times higher than with traditional air-cooled systems. Therefore, consumers do not overpay for unnecessary space and materials. In fact, the BiXBiT container does not contain anything unnecessary, and at the same time it has everything necessary for each specific customer and each specific project.
Features of BiXBiT container
Container design for immersion-cooled racks has a number of advantages in comparison with analogues from competitors, and even more so with air-cooled containers:
the possibility to reuse the heat generated by the mining equipment for household needs in the required amount;

overclocking of the immersed equipment up to +60% of the initial computing power;

increase of the equipment lifespan by at least 2 times;

complete elimination of noise and dust pollution;

saving up to 30% in energy costs;

standardized logistic tare, allowing air, land and water transportation;

high density of equipment placement - 1 MW of capacity occupies only 30 sq.m;

clever space zoning with the allocation of several compartments for operation and maintenance of installed equipment;

high-quality and expensive components tested specifically for the requirements of immersion cooling;

possibility of operation at temperatures from -40 to +40 degrees Celsius;

durable frame with a lifespan of 15-20 years.
Contents of BiXBiT container
To give you an example, let's look at one of the containers we made that went to Brunei. The standard 40-foot ISO container was sectioned into four compartments. That makes it easy to maintain and access different components of the installed equipment.
operator's area;
production bay;
pumping station;
electrical bay.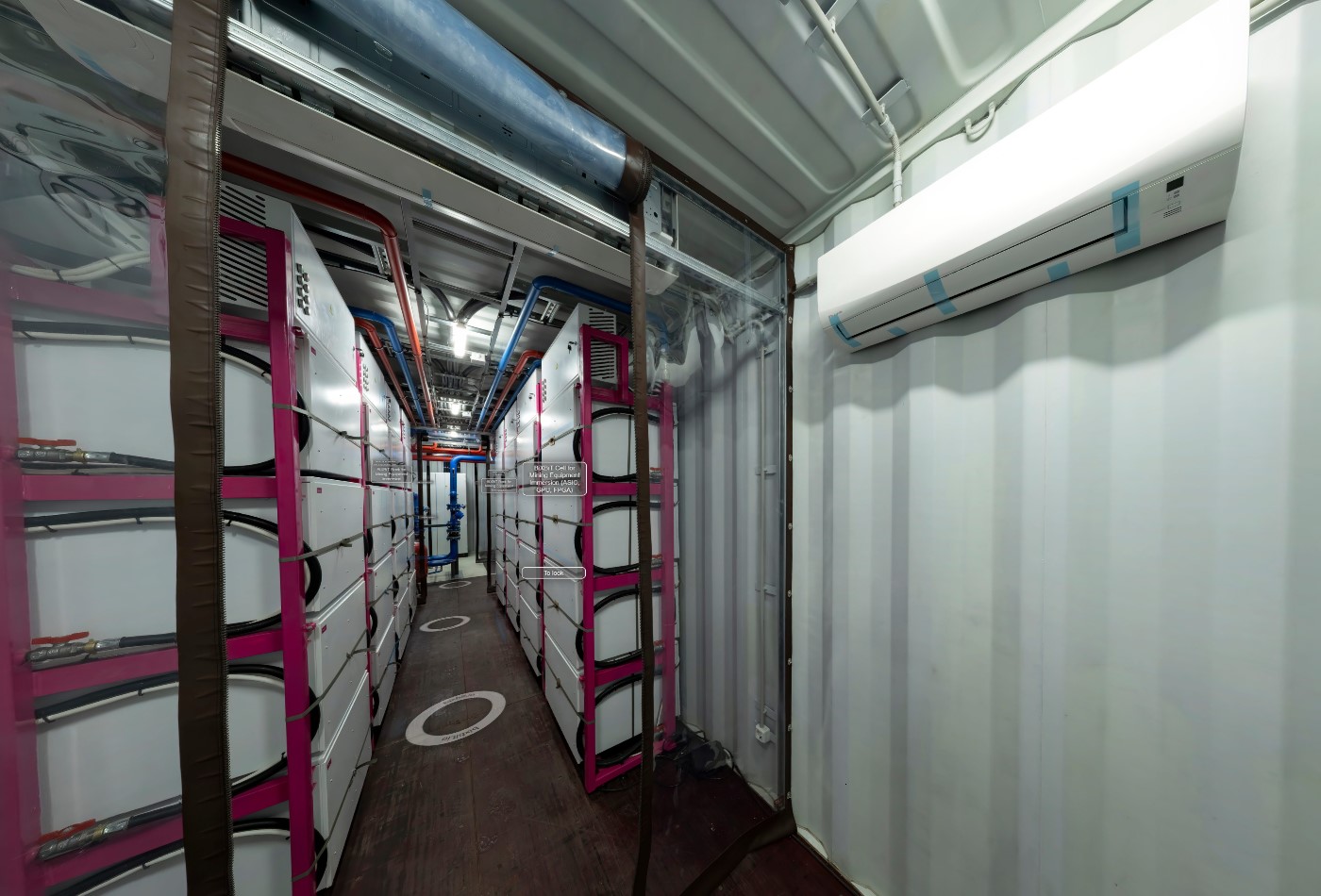 The operator's area can be used as a workstation for service personnel or system administrators. A computer is usually installed here to monitor the entire system.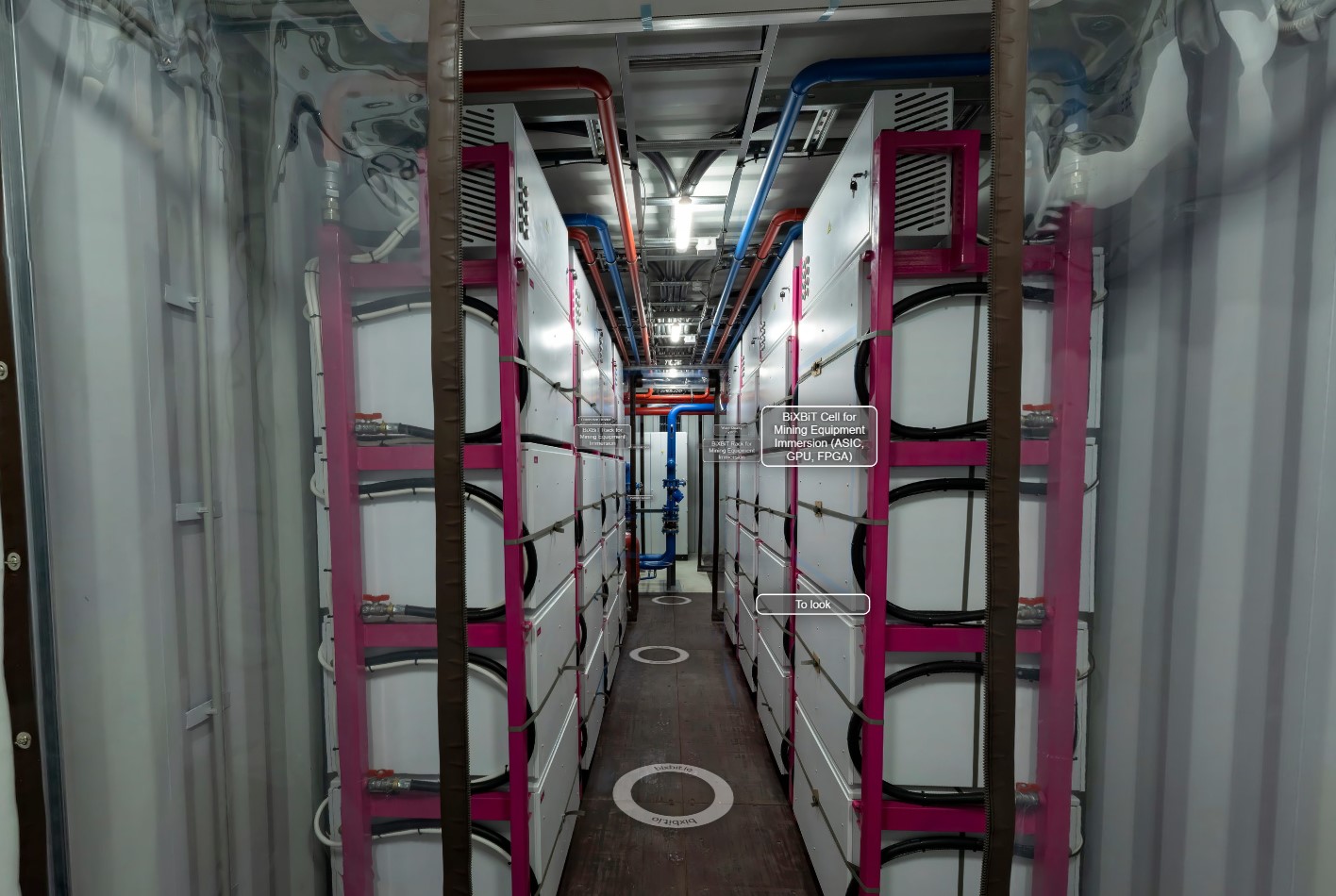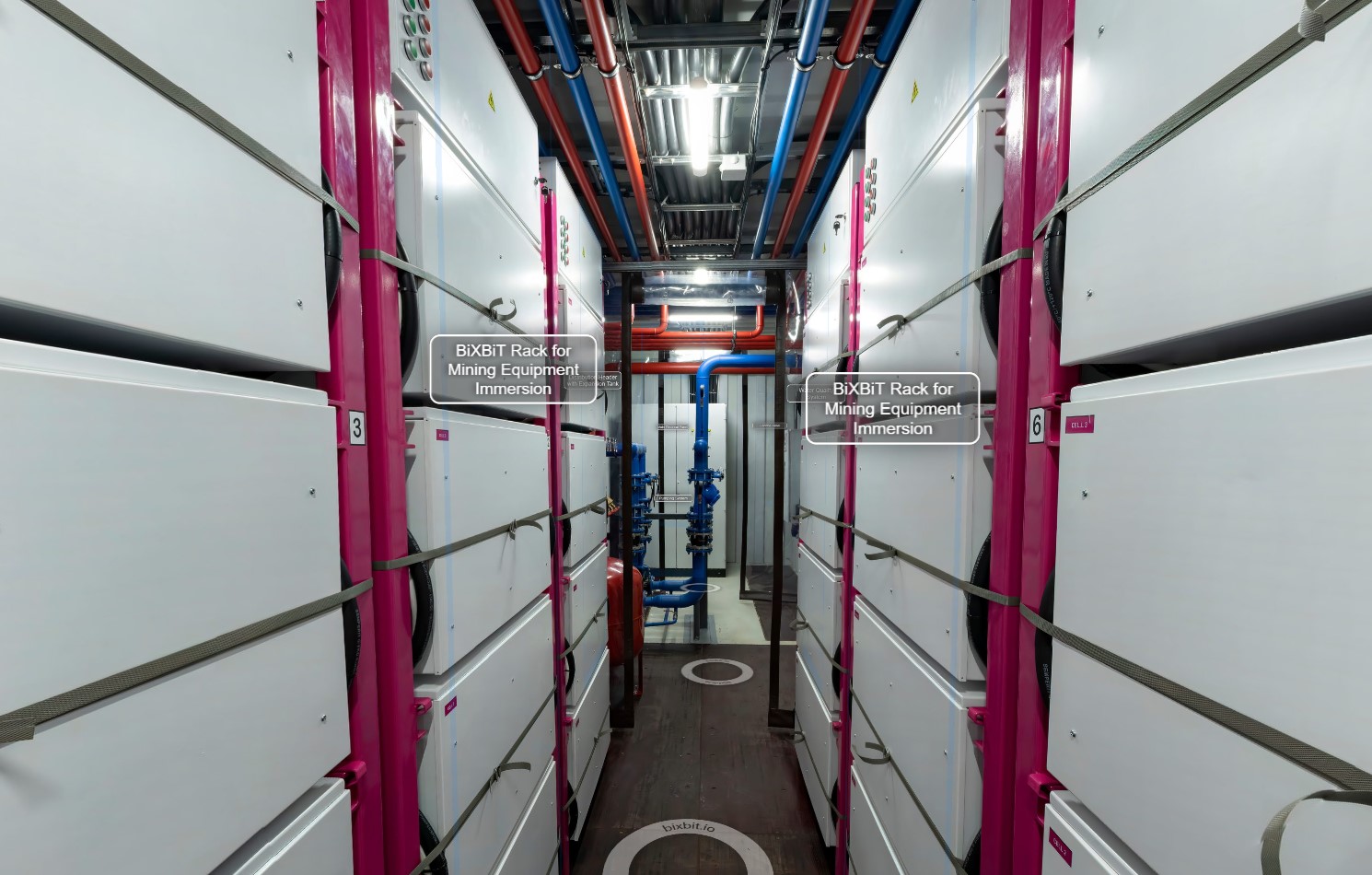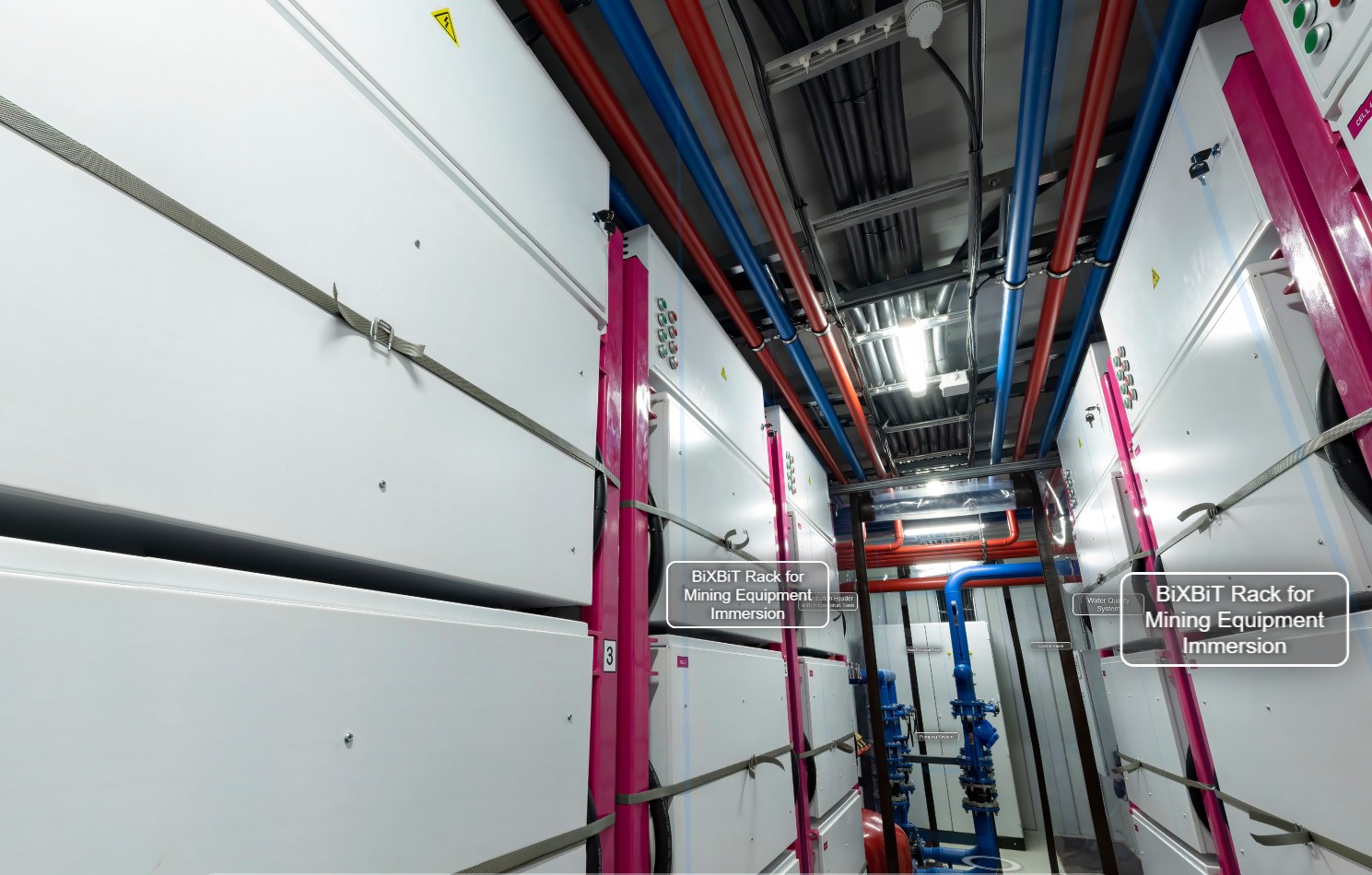 The production bay is intended for hosting BiXBiT immersion-cooled racks, which contain mining equipment. Depending on the type of ASICs chosen, 8 or 10 racks can be placed. In this case it was 8 racks of 96 kW each with modified Whatsminer M30S ASICs (containing two hash boards per device). The total power is about 800 kW, and their performance is comparable to the standard air-cooled ASICs M30S with three boards.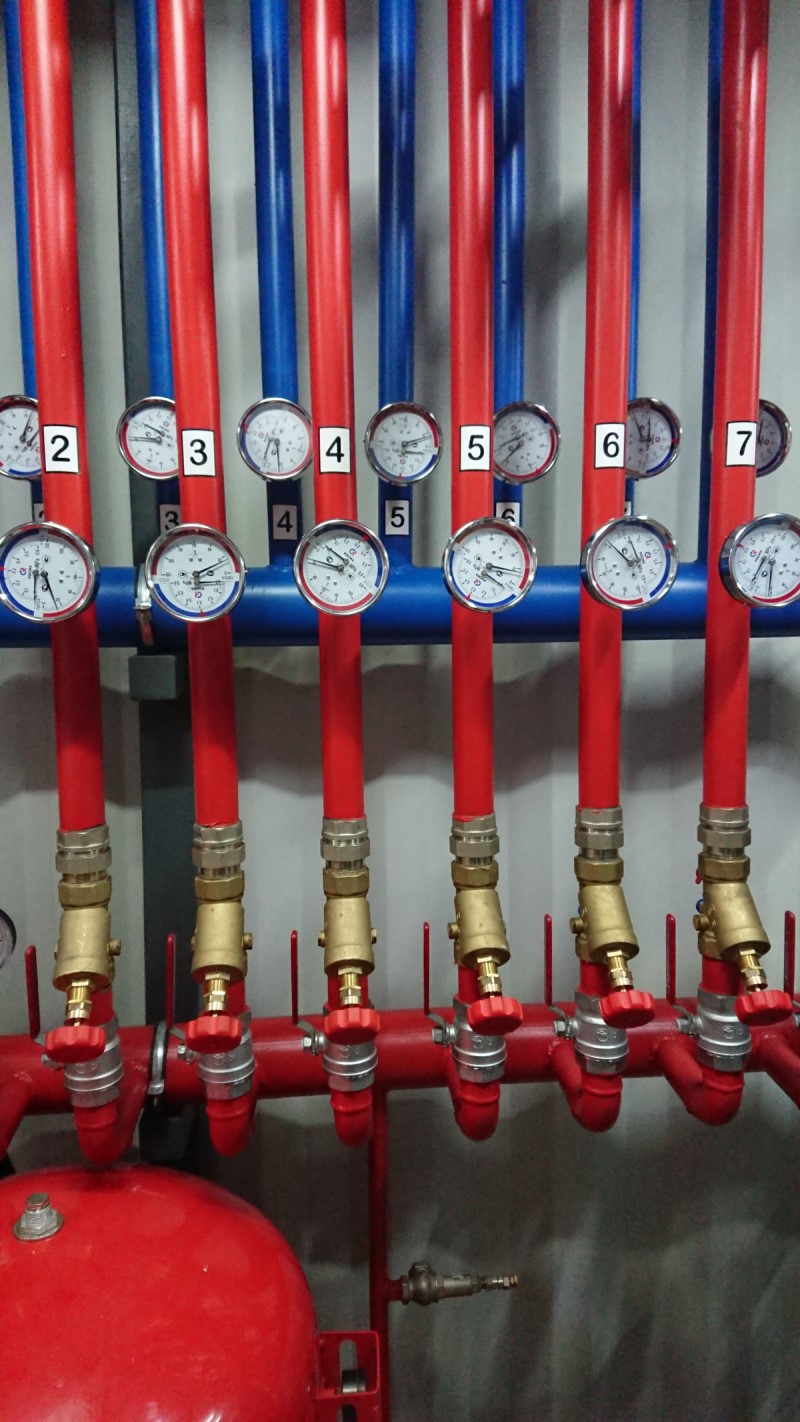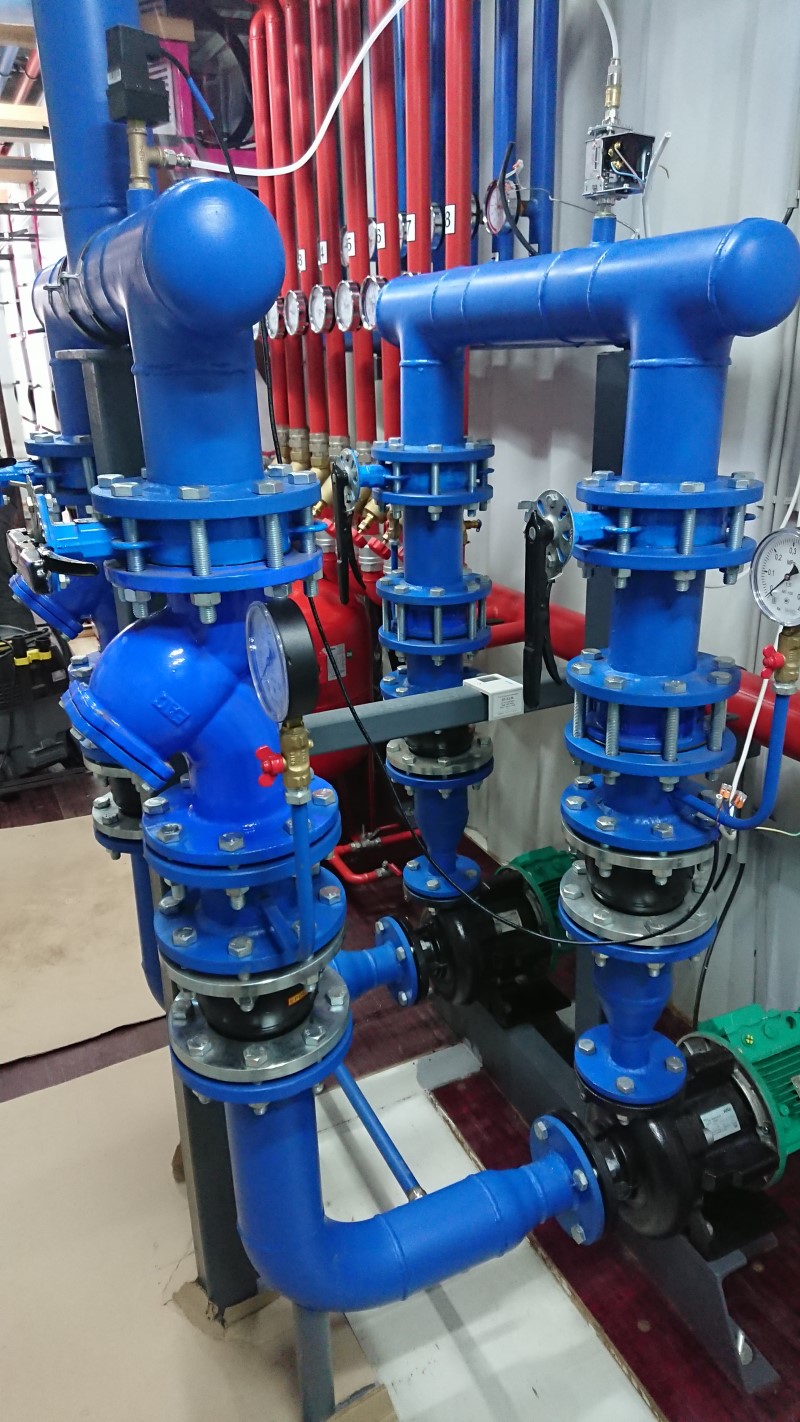 The pumping station contains the necessary auxiliary equipment to maintain the cooling system. Its main part is occupied by distribution headers with expansion tank, pump group (operating and reserve pump) and water quality system. The distribution headers circulate water to cool the racks (as one of the versions). They consist of regulating (balancing valves) and safety valves (expansion tank). The pump group is also equipped with measuring and shut-off fittings.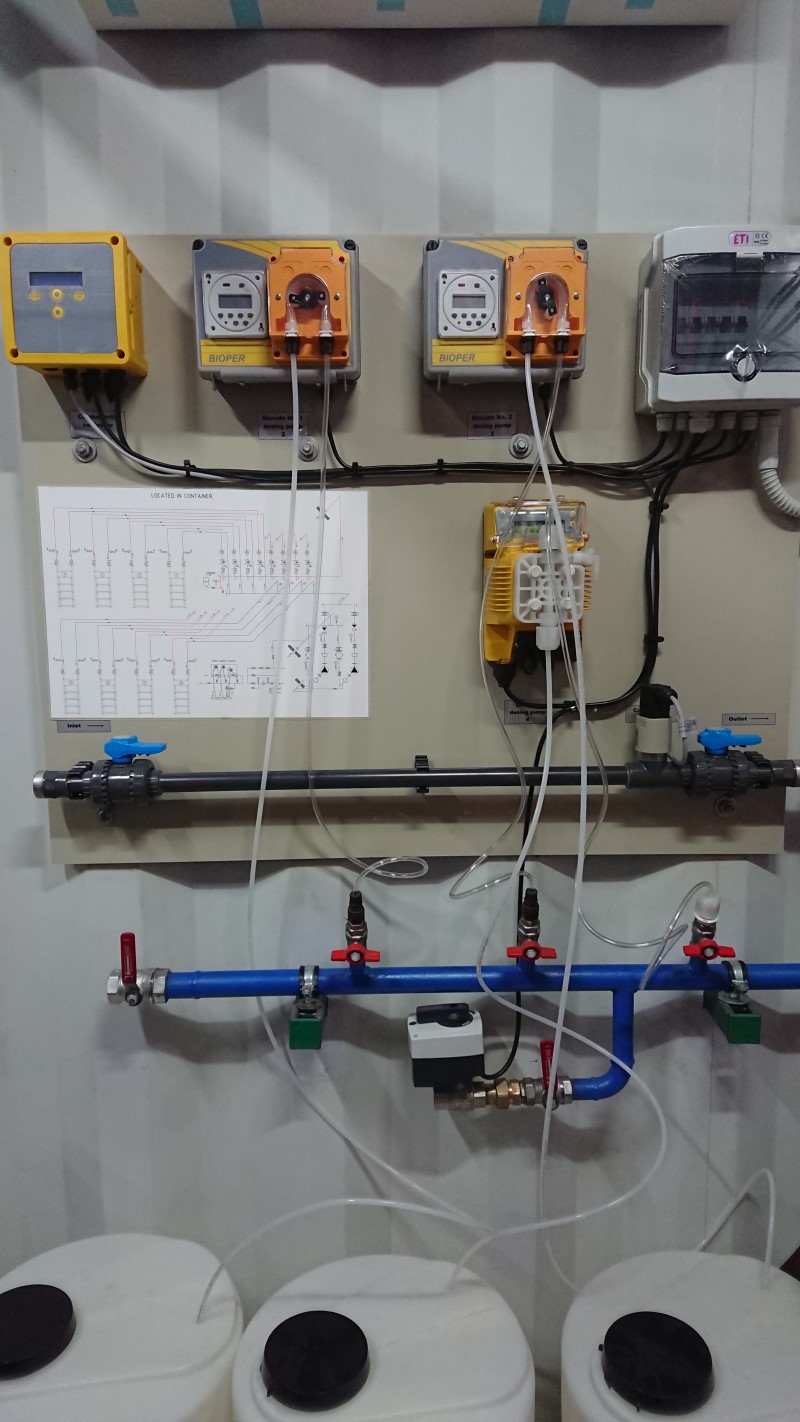 The water quality system is required for continuous operation of the wet-cooler. It includes a controller, three metering pumps, sensors, purge valve, and biocide and corrosion inhibitor tanks.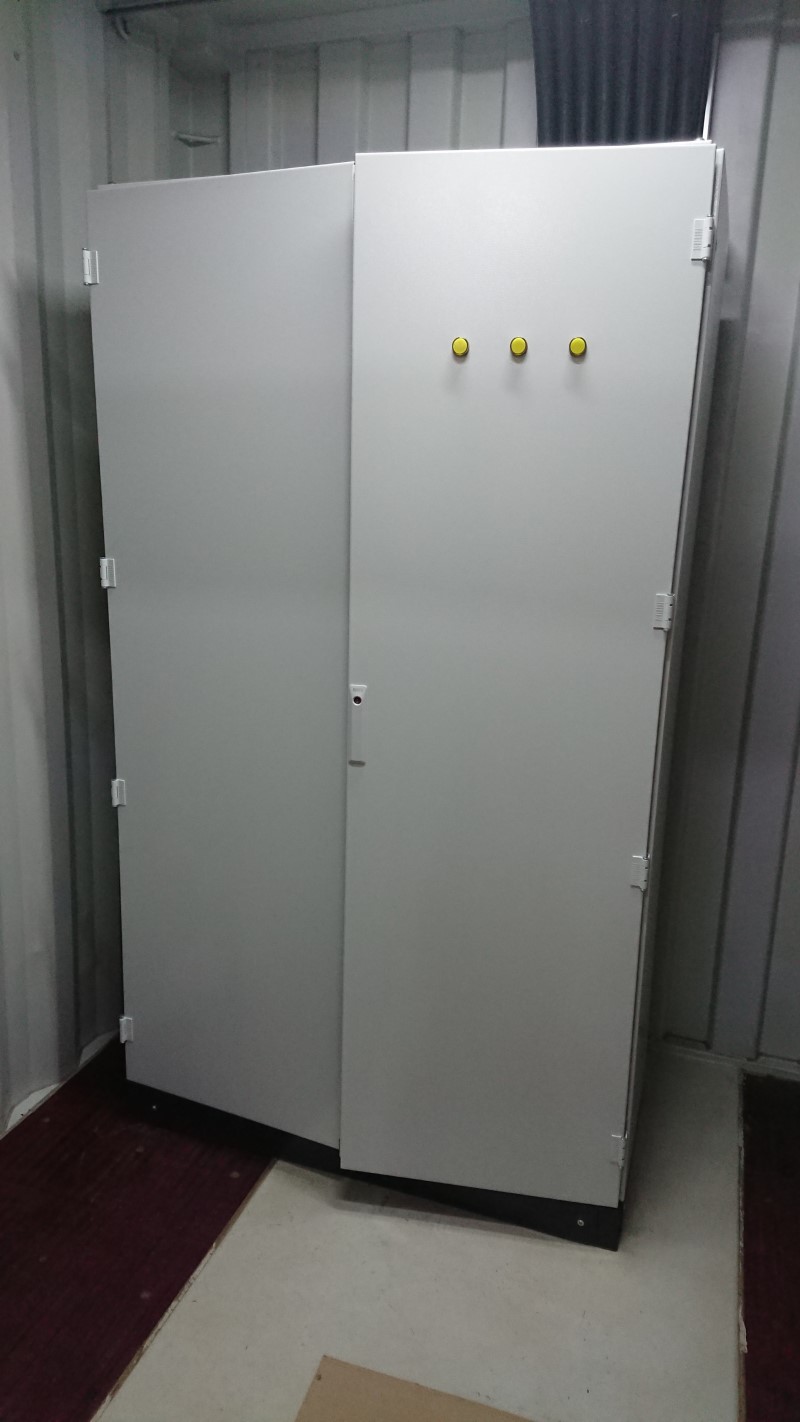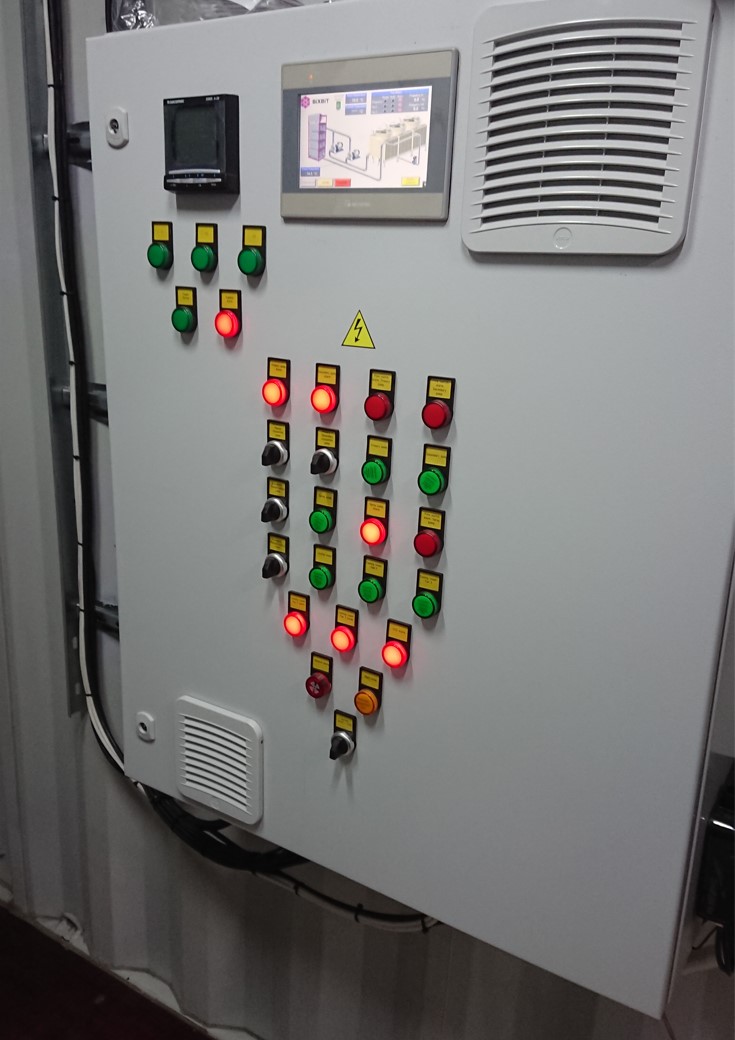 The core of the electrical bay consists of an electric switchboard and a control panel. The switchboard contains the input device and eight circuit breakers for each rack separately. The control panel includes everything to manage and monitor the cooling system, i.e. circulation pumps, water quality maintenance and wet cooling tower (fan and sprinkler pump). The control complex coordinates the operation including the air conditioning system, which is installed one in each compartment.
In general, the configuration is quite individual, depending on the type and amount of mining equipment, climatic conditions, the possibility of reusing the heat and other variables.
More information you can look at our video:
***
Thus, the BiXBiT container is the most advanced and reliable solution for immersion cooling mining. It guarantees trouble-free operation even in difficult climatic conditions and locations unsuitable for building capital structures. With our solution the decentralization of mining takes on a whole new meaning!
Publication date: 2 years ago