The Effects of Data Centers on the Environment
In today's energy-demanding era, data centers are commonly used to power everything from our smartphones to our banking systems. However, the bad news is that their popularity is leading to huge environmental impacts. Currently, there are many million facilities active in different parts of the world and the energy they consume is soaring greenhouse gas emissions and other forms of pollution.
The emergence of new data centers such as hyperscale and edge facilities has also worsened their environmental impacts even more. That's why we decided to prepare this post to discuss their environmental impacts and see if there's a way to prevent such bad effects.
---
Table of Contents
Data Centers and How They Work
The Data Centers Environmental Impacts
Other Harmful Aspects of Data Centers
The Future of Data Centers Environmental Impacts
How to Reduce the Data Centers Environmental Impacts
---
Data Centers and How They Work
Data centers are large installations that accommodate computer systems and other digital equipment. They're mainly used for different tasks such as storing and sending gigantic amounts of data. Such facilities are critical for modern society to perform properly as they support everything from email communication to social media and online gaming.
How Data Centers Work
Data centers work by storing data on servers, which are basically mighty computers interconnected to construct a network. When you try to access what is kept on a server, a network of routers and switches sends your request to a server. Shortly afterward, the server prepares the data you need and sends it back to you.
The Amount of Energy They Use
The amount of energy that facilities devour to work and cool their equipment is jaw-dropping. Indeed, data centers consume over 1% of global electricity. The horrible fact in this regard is that this percentage is constantly growing as more and more devices are manufactured and connected to the Internet.
Plus, modern technologies are also increasing the need for data centers, including the Internet of Things (IoT), artificial intelligence (AI), and cryptocurrency mining. These technologies require bigger facilities that consume even more energy.
To lessen the energy usage, advanced cooling techniques such as liquid immersion cooling are needed to cool down the equipment and remove the heat they generate. These cooling systems can decrease the energy that the facilities need to run and lower their environmental impacts. We'll be discussing this further later in this post.
The Data Centers Environmental Impacts
Data centers are among the imperative components of our digital age. They come with countless benefits and enable us to perform several tasks and process tremendous amounts of information. Despite their innumerable advantages, such facilities have many environmental impacts that can't be neglected.
The Need for Cooling Systems
One notable environmental impact of data centers is their need for cutting-edge cooling systems to remove the heat that servers yield. The facilities can generate an enormous amount of heat that needs massive energy for cooling down. In fact, it's estimated that around 40% of a data center's energy consumption is used for cooling.
The Production of Electricity
What's more, the production of electricity that drives data centers is a process that leads to the massive production of greenhouse gases. In most cases, fossil fuels are used to produce this electricity, releasing tons of greenhouse gases into the atmosphere. Scientists believe that the carbon footprint of such facilities is as much as the pollution caused by aviation and other industries.
Other Harmful Aspects of Data Centers
Other aspects that harm the environment include their batteries, diesel generators, and electronic waste. The facilities require backup power supplies in case of outages, and these backup systems often rely on diesel generators that produce emissions harmful to the environment. Additionally, they generate electronic waste when equipment becomes outdated and needs to be replaced.
What Giants Do
Technology giants such as Amazon and Google vividly know their data centers environmental impacts and are aiming to use greener data centers. That's why they're shifting to renewable sources of energy, including solar, wind, and hydroelectric power to cut their need for fossil fuels. However, it will take time to transition to these more sustainable methods fully.
The Future of Data Centers Environmental Impacts
In the upcoming years, data centers will be using even more energy. The need for more data storage and faster processing speeds will continue to soar. The exact amount depends on user behavior and how efficient future processors will be. However, to reduce their carbon footprint, the facilities will have to operate in greener circumstances.
Technologies and tasks such as 5G, crypto, high-performance computing, AI, and power-consuming graphic tasks will put more load on data centers, making it even more crucial to becoming environmentally green. As the demand for faster processing of data and more storage spaces grows, various industries will have no other way but to shift toward sustainable solutions to diminish their impact on the environment.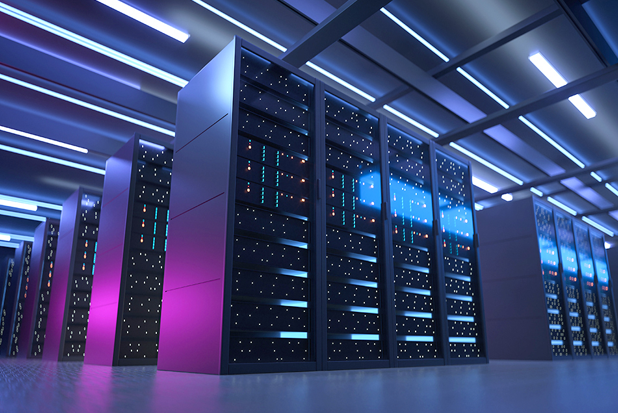 How to Reduce the Data Centers Environmental Impacts
To diminish the environmental impact, a wonderful option is a transition to renewable energy sources to power data centers. What's more, using energy-efficient hardware and cooling systems can also lower the consumption of energy.
DCIM Tools
Another option is to implement Data Center Infrastructure Management (DCIM) tools that help you monitor and optimize energy consumption. These tools can help you find out how energy is used in your facility and where there's room for improvement.
Immersion Cooling System
Above all these approaches, the best option to lower the data centers environmental impacts might be upgrading from air cooling systems to liquid immersion cooling. These cooling systems use a special type of liquid, which is incredibly more efficient than air cooling systems. The method can reduce energy consumption by up to 95% and also extend the life of servers, reducing electronic waste.
What's more, liquid immersion cooling is more environmentally friendly. It doesn't need intricate air conditioning systems that consume huge amounts of energy. It also reduces the carbon footprint of the facilities as it needs much lower amounts of electricity to cool servers down. Plus, immersion cooling doesn't need water to cool the servers, and you know that water is already such a rare and valuable resource in most parts of the world.
Final Words
Obviously, the energy required to cool down the equipment is so high that it significantly contributes to harmful environmental impacts. There's no doubt that new, advanced cooling technologies must replace traditional air cooling systems if humanity needs to cut its carbon footprint in the coming years.
For such an integral trend in climate change, BiXBiT offers various products that are useful for data centers and mining farms. Our products are perfect for various sizing mining farms around the world and range from BiXBiT Cell and BiXBiT Rack which are best for home, small, and medium-sized businesses, to BiXBiT Container for mining hotels in addition to our specific immersion liquid COOLANT.
Publication date: 3 weeks ago