ASIC evolution - what will happen to computing devices for mining
ASICs manufacturers seek to make their devices more powerful and energy efficient. They develop new chips and experiment with cooling. Narrow-functional devices are overgrown with additional options and gadgets. Will it lead to the fact that new devices will require more areas and consume more electricity? We will try to find out the prospects ASIC has for the next two-three years.
What is an ASIC miner
Literally, the abbreviation ASIC stands for "application-specific integrated circuit". To put it simply, this device is designed to solve a specific task. If a general-purpose device can be programmed to perform a bunch of operations, a specialized one can be programmed only for one thing. This is beneficial and justified in some cases, because the same type of calculations, powered by all the capacity of the chip, occur faster and cheaper.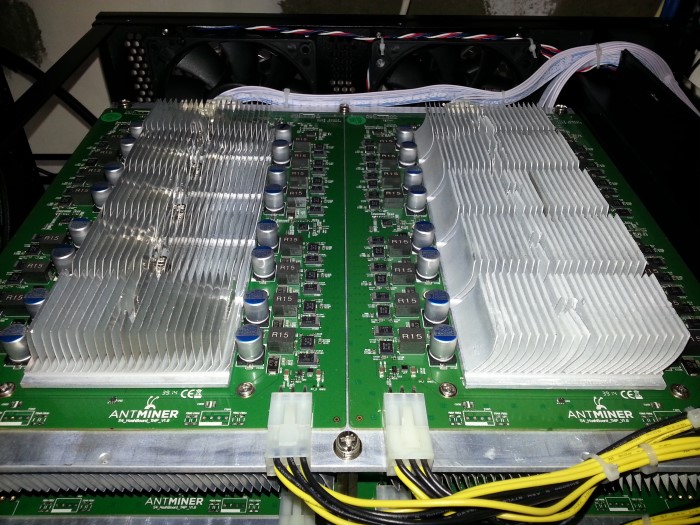 At first, single-chip systems were used for decoding audio and video files in mobile phones and other simple devices. But with the development of the mining industry, it became obvious that large-scale operations of the same type were taking place in this area within a specific algorithm (SHA-256, Scrypt, etc.). Initially, a GPU processor power was used to parallelize the computations, but then special-purpose devices with Bitcoin mining algorithms took this place, which were called ASIC.
What are ASIC types
All ASICs have a common construction. This is a small but weighty metal box with chips, a power supply unit and a cooling system. The main characteristics of the ASIC are performance (hashrate, Th/s) and power consumption. The price depends on the hashrate - the higher it is, the more ASIC costs.
The market power (about 75% of the world market as of the winter of 2018) is held by Bitmain Technologies - the manufacturer, which supplies ones of the best ASICs for mining. Estimation of its market capitalization is close to 10-12 billion dollars. The company's founders, Cihan Wu and Mikri Jean, thought about creating specialized mining devices back in 2013. And by the end of 2017, the company's profit was $ 2.5 billion, while net profit in the first quarter of 2018 was 1.1 billion. The manufacturer owns such brands as Antminer, Antpool and Hashnest.
In May 2016, one of the most popular and common bitcoin miners - Antminer S9 was released. It is based on the 16-nm chip and has a hashrate of 14.5 Th/s.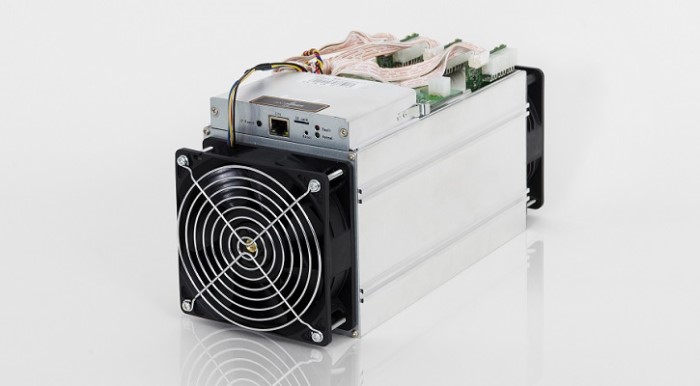 With a significant lag in market share, the company Canaan Creative follows Bitmain. It also exists for about five years and specializes in blockchain servers and microprocessors production. Its past year revenues sum up to about $ 200 million. Company founder Ying Ji Yong is may be the first who has integrated mining-exclusive chips into an FPGA device (a transitional model between GPU and ASIC) and created two brands, Icarus and Lancelot. The Avalon brand appeared later.
Among other manufacturers who offer miners, Ebang is worth mentioning too. This is also a Chinese vendor, founded in 2010. The company came to the mining only in 2016, having launched its own Ebit miner series based on 10 nm process technology.
There are also such world-known companies as INNOSILICON, CoinTerra, Hashfast, Baikal, etc.
Wi-Fi routers for mining
In pursuit of the customer appreciation, and their wallets, manufacturers produce new solutions aimed to bring profit to their owners. For example, in August 2018, Bitmain announced the release of Wi-Fi routers - Antrouter R3-DASH and Antrouter R3-SIA, also intended for mining the DASH and Siacoin cryptocurrency. These routers were based on Bitmain R3 case.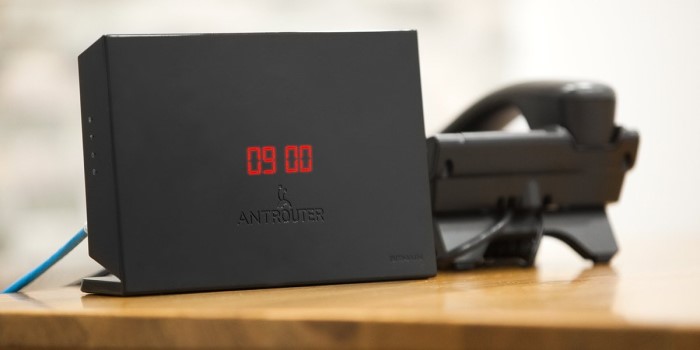 The computing power of these devices is 300 Mh/s for Dash with a power consumption of 24.37 W and 11.54 Gh/s for Siacoin with a power consumption of 22.6 W. The weight is no more than 0.6 kg, and the price per unit is about 58 US dollars. It requires only Internet connection and power supply. The device starts mining using the owner's Bitmain-account while connected to the "Antpool" mining pool by default.
Dual-use devices are a great solution and we hope Bitmain will continue to develop miners in this direction.
Water-cooled ASIC farms
Some manufacturers, for example, Cointerra, produced mining rigs consisting of ASIC chips and packaged in a standard 4U industrial server case. Such installations as TerraMiner IV used water cooling for their Goldstrike ASIC chips based on a 28 nm process technology.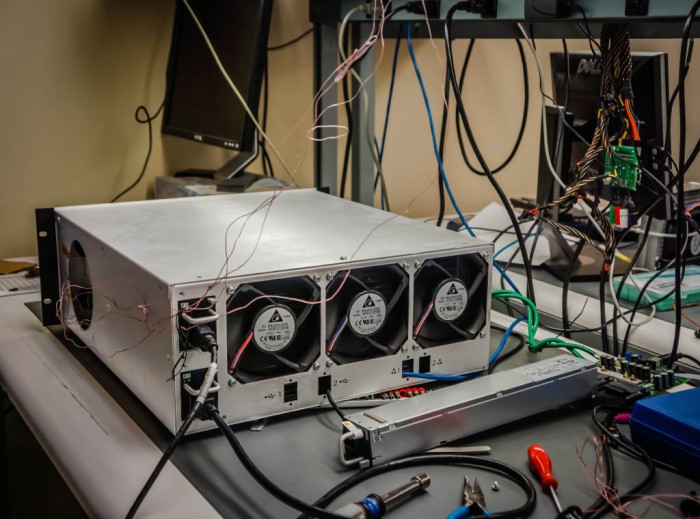 Each of the four chips produces up to 500 Gh/s, so the total power reaches 2 Th/s. Just a couple of years ago, such a hashrate seemed to be incredible and was enough for extracting one bitcoin per day. Today, it is far from enough.
A similar installation was created by Hashfast. They used Golden Nonce chips and water cooling. Two Seasonic power supply units allowed chips to produce 1.2 Th/s.
A much more interesting example of this year is Bitfury Tardis, the industrial mining server for Bitcoin. This giant has a capacity of 80 Th/s and includes 5-8 hashboard cards. This is a natural response to the increasing network's complexity and a decrease in remuneration per each block.
Hydro miners with integrated liquid cooling
By the end of August 2018, Bitmain announced the start of the Antminer S9 tuned version production, which supposed to have a specially designed mining case. Thus, S9 Hydro became the world's first ASIC miner with integrated liquid cooling.
Water cooling is not this model's the only advantage. Its hashrate is 18 Th/s, which is higher than the S9j has. Water cooling is expected to reduce noise level and increase lifespan of the device. Its power consumption will remain at 1.7 kW per hour.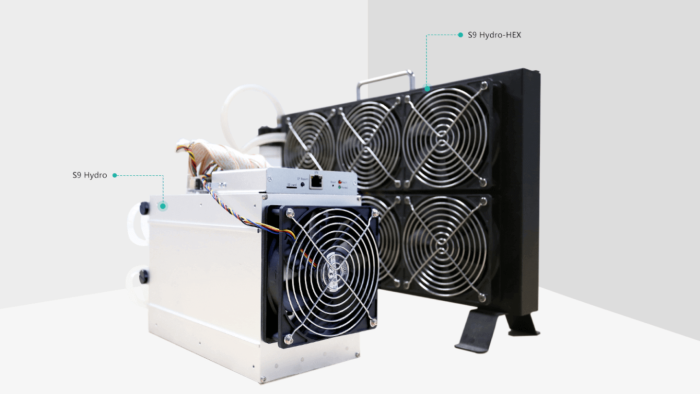 A month after that, the manufacturer announced the release of a 7-nanometer chip for ASIC devices. The transition to this process technology will increase the performance of all future devices at least by 2 times compared to existing ones. This will give Bitmain a serious edge and help them gain even greater market power.
Air cooling for S15 and T15
In parallel with water cooling, Bitmain announced releases of quite familiar air-cooled devices as well. This happened a couple of months after the announcement of 7 nm chips. The devices received S15 and T15 model names and promised users a performance boost along with low power consumption.
The S15 model produces 28 Th/s when using a 1.6 kW power supply unit and 17 Th/s in energy-saving mode, limited to 850 watts. The T15 model produces 23 Th/s at a full power of 1.5 kW PSU and 20 Th/s in energy-saving mode, limited to 1.2 kW.
After the S9 Hydro announcement, the release of traditional series of devices shows that manufacturers are not yet ready to completely "submerge" all series into liquid cooling. It is difficult to find a reason for it, especially for such company as Bitmain. Apparently, technical processes are mainly and firmly established for air cooling, while "hydroasics" are rather experimental and future-oriented solutions.
The future of ASIC miners
At the end of 2018 and the beginning of 2019, the following tendencies of mining main cryptocurrencies (primarily Bitcoin) will prevail:
the complexity of the most profitable cryptocurrencies extraction;

the inability to change the crypto mining algorithm and switch to a more profitable cryptocurrency;

release of devices based on chips with new process technology;

reduction of electricity consumption by mining equipment;

the possibility of overclocking equipment within the original firmware;

reduction of a reward per block.
It is quite obvious that manufacturers of mining equipment are planning to further improve the cooling system of devices. So far, it all comes down to liquid cooling using water blocks and removing heat straight from the hottest elements. These are mostly single-loop systems. Waterblock is installed close to the chip or processor. When heated, it increases the temperature of the circulating water, which the pump takes to the tank. From there, the water enters the heat exchanger and the heat from it expels through the fan to the outside environment. Through the course of its movement, already cold water is delivered back to the water block and takes heat from hot elements again.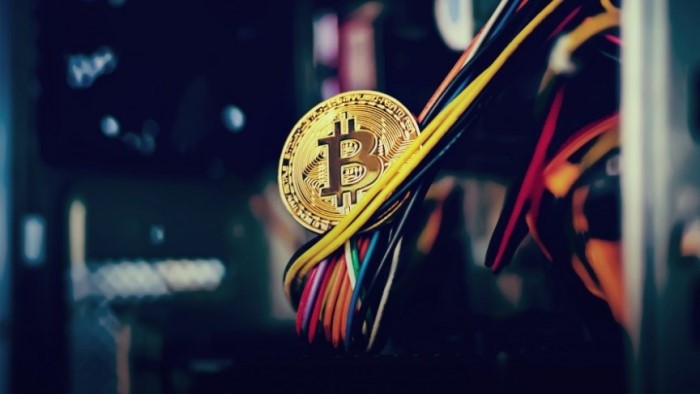 However, some companies are experimenting with more promising, immersion liquid-based technologies.
Immersion cooling from BiXBiT
Immersion cooling implies full submerging of computing devices - GPU / FPGA / ASIC - into a dielectric coolant. The coolant must have a special set of properties that prevent equipment failure and be compatible with computing equipment. As a result of many experiments, BiXBiT has found a composition that is optimally suitable for any kind of computing devices, whether it's old or new models. By the way, "Coolant" by BiXBiT can be purchased separately.
BiXBiT cell for equipment accommodation has dimensions of 750x440x380 mm, which allows you to place 6x ASIC type S9 or 24x GPU. The design of the cell implies installation of power suppliers with higher capacities. With powerful suppliers it is possible to overclock computing equipment up to 40%, thus preserving the competitiveness of old ASIC models compared to new ones.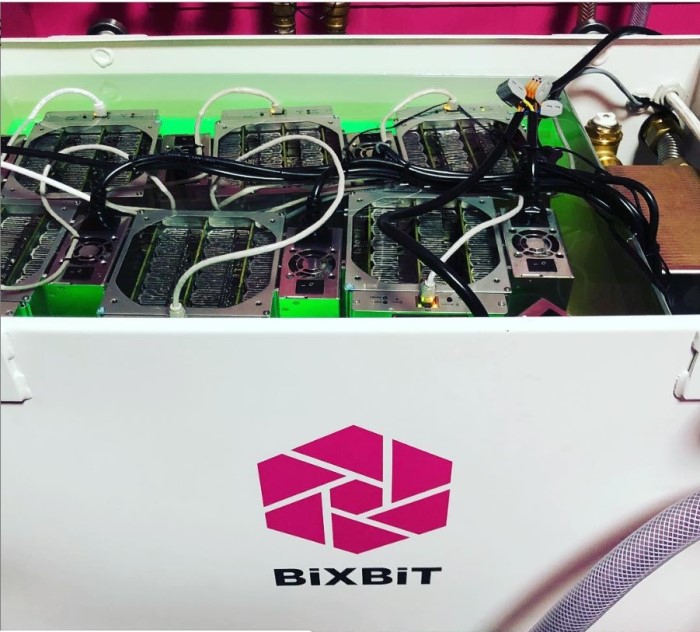 BiXBiT infrastructure provides compact and scalable solutions due its modularity. The user can start with a starter kit - one cell, and then expand his farm up to a rack or even a container. Immersion cooling installations require a half the area occupied by air-cooled mining farms. Extra space is especially noticeable in projects of industrial scale. On top of that, installations can be integrated with the heat supply system in order to heat the "warm floor" or cultivating heat-loving plants, breeding exotic animals, drying with hot air and so on.
If you decide to buy a mining rack, you won't need to update it each time a new ASIC model is released. For its further cooling, you just need to change the rig frame, suitable for another ASIC models. This solution will give you the confidence of a stable income during the next 1-3-5 years without the need of new investments, even while maintaining rate of 4-6 thousand US dollars per one coin of the main cryptocurrency. Additional savings are achieved through the purchase of OEM products only, that is without fans and radiators, which means much less expenses on consumables.
Energy savings when using immersion cooling reaches 30%. As with extra space, this is especially noticeable in projects of industrial scale when abandoning air conditioners and the need of creation the corridors for air flowing. Noise and micro vibrations vanish, making a mining more of a friendly type of activity.
ASICs that have been in the liquid, look like brand new, devoid of noticeable signs of depreciation and do not lose their saleable condition. This means that you can always encash them and purchase more profitable, powerful and productive devices. The process of washing away the liquid will require some investment though, but in the end of it, equipment without any dust and debris will shine like it has been picked off straight from the assembly line.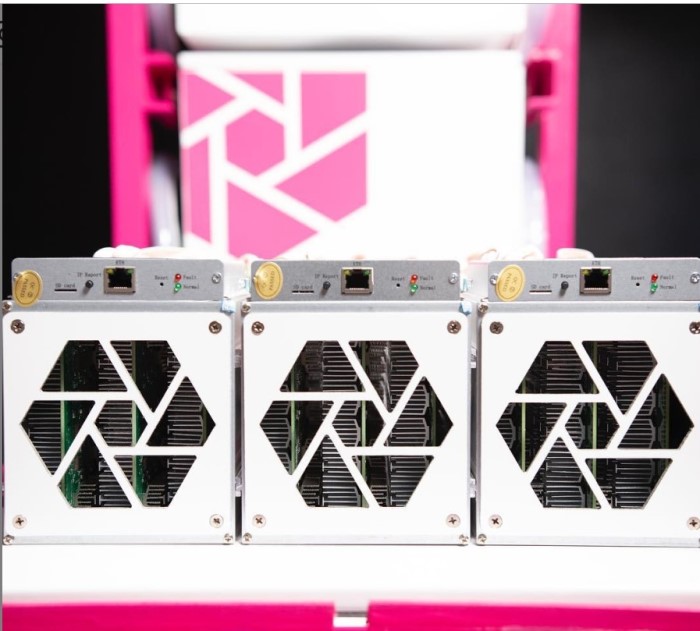 In whatever direction the further development of integrated circuits and cryptocurrency mining equipment goes, its cooling will be one of the main issues anyway. We stress out the immersion cooling method as the most promising, since it allows to utilize excess heat and save on components, energy consumption and maintenance. Overclocking with this cooling method is more stable and makes the equipment viable compared to new ASIC models.
More information on BiXBiT products can be found at company's official website: bixbit.io.
Publication date: 4 years ago