How to Make 1500 ASICs Out of 1000 Bought? The Magic of Immersion Cooling
Mining is still one of the most profitable ways to make money. However, the amount of computing power required is growing, and with it the need for a large number of mining devices. But even in such a seemingly unambiguous situation, it is possible to outsmart the system and become the owner of, say, not 1,000 miners, but 1,500.
Getting started with mining
So, you have decided to start mining cryptocurrencies. First, you need to decide on the type of equipment you want to buy. It can be GPUs, ASICs, or more exotic FPGAs. For bitcoin mining, it is preferable to choose an ASIC from one of the leading manufacturers - Bitmain, Micro BT, Canaan, Ebang. In doing so, you should pay attention to the following characteristics:
performance (hashrate);

retail price;

profitability and payback time;

complexity of connection and configuration;

power consumption, etc.
Some other characteristics, such as warranty period or noise level, are secondary and do not have a decisive influence on the consumer's choice.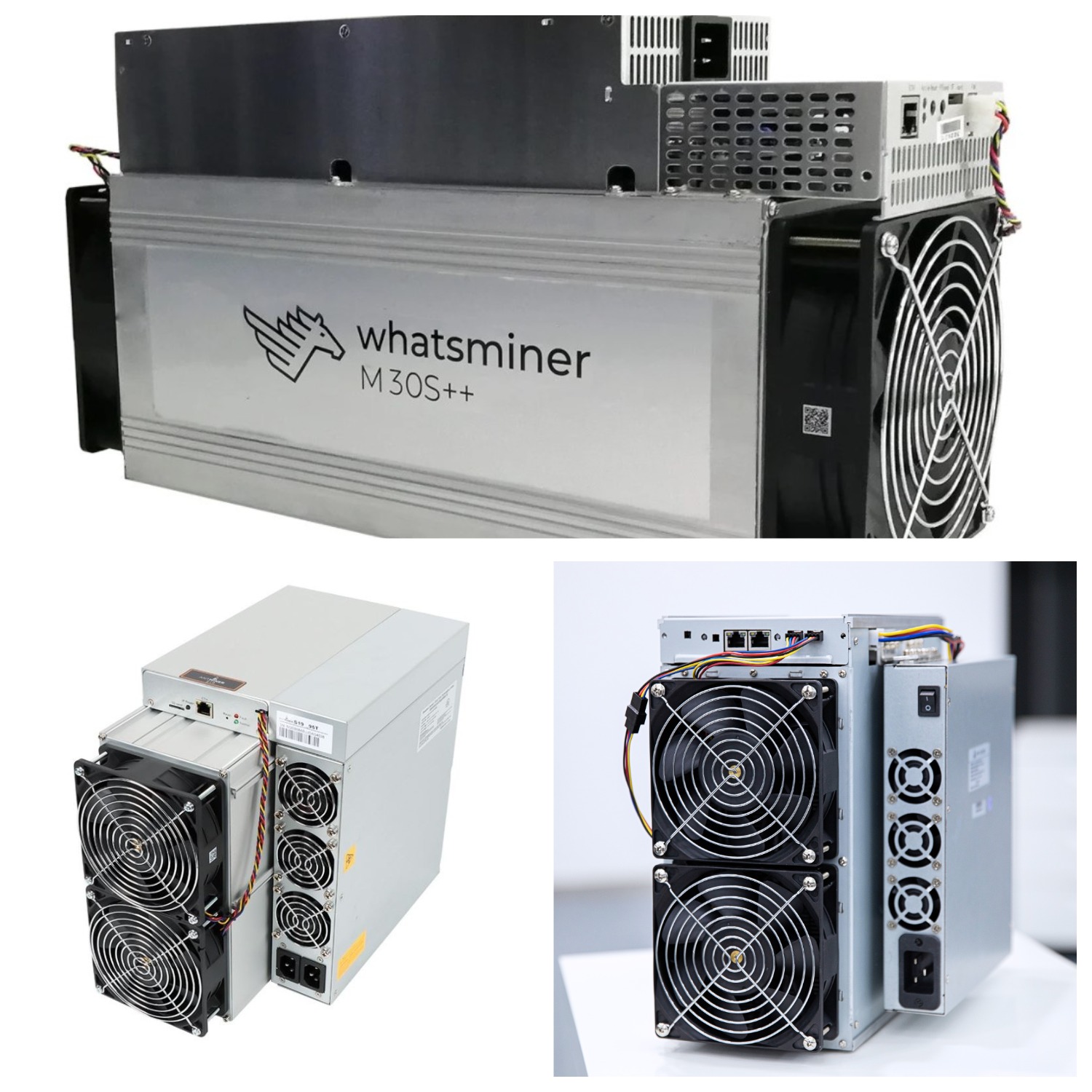 How ASIC is designed
ASICs appeared in 2012 and were supposed to bring the profitability of cryptocurrency mining back to its previous high level. The first devices were quite small and compact, but gradually they increased in size. Some modern models weigh 15 kilograms and have impressive dimensions.
A modern ASIC consists of several basic elements:
control board;

power supply;

2-3 hash boards with dozens of chips that provide processing power;

cooling system, usually consisting of 2-4 powerful coolers;

metal case.
ASICs are fairly easy to disassemble and reassemble, which is good for repairs, immersing them into immersion fluid and upgrades.
Advantages of Whatsminer M30S+
The Whatsminer M30S+ computing device has excellent performance out of the box. MicroBT ASICs are durable machines with high performance. They are equipped with 7 nm chips and have the following characteristics:
hashrate - 100 Th/s;

power consumption - 3 400 W/h;

dimensions - 130x220x390 mm;

energy efficiency - 34 J/terahesh;

market launch date - April 2020.
Calculations of mining on Whatsminer M30S+
Below is the calculation of payback and profitability of the ASIC Micro BT Whatsminer M30S+ (100 T). Let's assume that we have the following initial goals:
to buy 1,000 ASICs;

to start mining with electricity cost of 0.05 USD/kWh;

1 BTC exchange rate = 45 000 USD.
Buying 1,000 ASICs will cost about 9,000,000 USD (9,000 x 1,000). Here and below the cost of the miners is taken to demonstrate the calculations and may differ from the actual prices. They will earn 743,250 USD per month (including electricity costs and pool commission). Payback will be 12.1 months. It should be noted that we do not consider the organization of air-conditioning and ventilation systems, which also require a solid expenditure for large farms. The calculation can be checked at btc.com.
Well, with the current bitcoin rate and the cost of ASICs, the payback of slightly more than a year doesn't seem so bad. But what if we tell you that you can buy not 1,000, but 1,500 ASICs for the same money and mine much more profitably?
Whatsminer M30S+ mining secrets
We don't mean in any way buying used devices or using some kind of shady supply schemes. The secret lies in applying BiXBiT immersion cooling and partnership with the MicroBT manufacturer. The fact that existing agreements and the availability of branded firmware allows disassembly of standard ASICs Whatsminer M30S + with three boards and build new ones with only two boards and overclocked chips. That is, if you buy, for example, two ASICs (6 boards), you can assemble three ASICs (2 boards per each). Hashrate of two overclocked boards will be nearly comparable with the standard 3 boards device. This is only possible with immersion cooling and specially designed firmware approved by the manufacturer for this purpose.
To build 1.5 times as many ASICs as were purchased, you need to do the following (this BiXBiT offer is only valid for projects of 1 MW or more):
buy 1,000 Whatsminer M30S+ ASICs for 9,000,000 USD;

order additional power supplies, control boards, board frames, etc. - 250,000 USD at a price of 500 USD per kit;

Spend 250 hours assembling ASICs at a rate of 15 minutes per device. This will cost about 3,000 USD at a rate of 12 USD per man-hour

buy 63 units of BiXBiT immersion cooling racks for 1,600,000 USD.
Thus, the investment in the project equals 10,853,000. Yes, it is higher than buying standard air-cooled ASICs, but the fun part starts next. The ASIC M30S+ now consists of two boards instead of three. The hashrate of one device is about 90-95 Th/s.
We find that all devices bring 970 500 USD monthly. Payback, in this case, is reduced to 11 months, it is shrinking despite higher initial capital investment. Respectively, in the first year of operation, the user receives almost 970 500 USD net profit! While the purchase of a thousand air-cooled miners will bring the first net profit only in the second year of active mining.
Flexible tuning of hashrate depending on your needs
There is also a slightly modified scenario. Let's assume that you are satisfied with the computing power of 1 000 ASICs, which is 1000*100=100 000 Th/s. We have an option to buy 750 miners instead of 1 000 devices and rebuild them into 1 125 units with about 90 Th/s per each. Thus, the available performance will be 1125*90=101,250 Th/s.
In this case, the total cost of miners is lower, and the number of racks involved is also reduced to 47 units. Below are the calculations:
9 000*750= 6 750 000 USD is the cost of ASICs;
(1125-750)*500=187 500 USD is the cost for additional elements;
Assembly of 375 ASICs at the rate of 15 minutes per device and labor costs 12 USD per hour = 2 250 USD;
47*25,645=1,205,315 USD is the cost of cooling system.
It turns out that the final cost is 8 145 065 USD compared to 9 000 000 USD when buying just 1 000 devices, not including the cost of ventilation and air conditioning system design and installation. That is, the savings start right from the purchase of ASICs. Therefore, the payback period will be shorter and the rate of return on net profit will be faster.
More details of overclocking Whatsminer ASICs are explained in our video:
***
By using BiXBiT immersion cooling, you get advantages that no other manufacturer of both cryptocurrency mining devices and immersion cooling installations offers. This allows you to break into mining with lightning speed and earn much more than your "neighbors" who have chosen standard air-cooled ASICs.
Publication date: 2 years ago